Rodeo Dreams by Sarah M. Anderson: June Spotted Elk knew the back of a bull was where she was meant to be. Not that it means anything to the cowboys all around her. She's a threat to them – because if she's as good as they are, they must be less manly than they purport to be – plus if she hangs around, she just might be a distraction that they can't afford. None of them say any of that out loud, they just get up in her face trying to intimidate her off the circuit any way they can.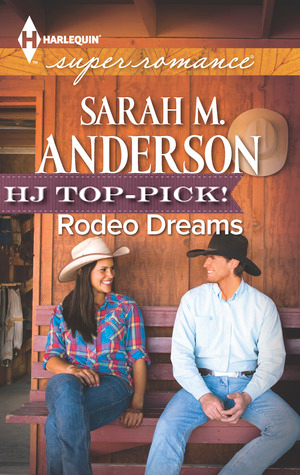 But some of the guys are different. There was Mitch, the Brazilian, and even Luke (aka the Preacher) – all three ready to help her with her first professional ride. Even they may not have thought she had what it took, but at least they weren't going to judge her based on her sex. However, not all 'different' was good. Travis Younkin might not have wanted to intimidate her out of the competition, but he definitely wanted her out.
Travis didn't like June riding bulls one bit. Yeah, he knew it was probably a bit archaic and chauvinistic, but he didn't think she had any business on top of any of these bulls. He knew first hand what could happen if even one little thing went wrong. He was on top of his game, and lost his focus for one second – that's all it took to just about ruin his life, his career, hell, he still hadn't really recovered from his accident. The scars he had ran much deeper the ones covering his body.
A few shows in and June had proven she had what it took to keep up with the big boys. She was running at the top of the pack – alongside Travis, Red, Mitch and the other seasoned vets. There were still issues – it'd never be easy, but June figured she had a solution to that problem… as long as Mitch and the Brazilian found her proposition equitable that is. Until Travis became her complication. Everything was okay as long as he stayed behind the scenes, but he was never good at that. And after they worked out that problem… well that's when things got really interesting.
"Something you needed to get off your chest, Mr. Younkin?"
Oh, she was going to be like that, was she? Her body might get his blood pumping, but her mouth sure did get his hackles up. "I'm not your father's age."
"But you're going to tell me what I can and cannot do?" She snorted, a sound that was echoed by a throaty bark from the backseat. Finally, she flipped that hair out of the way, just in time for Travis to see her fingers buttoning up the last few buttons on her shirt.
This was all messed up. In one short evening, this…this…this female creature had not only managed to complicate his comeback year, but she was making him feel things he hadn't felt in a long time. Since before the wreck.
I gotta say, I LOOOOVE me some cowboys. Especially centering around Ranchers and/or Rodeos. That being said, I think at the heart of this story there's a simplicity that's hard to miss. It's not about the bull riding or the endorsement deals. It's not about the inherent danger of the sport (although that's important). It's really about how people relate to each other. In this case, how friends help each other and how couples deal with the hurdles they have to face during a relationship.
This story talks about the public face of couples as well. There are so many other issues dealt with besides romance. Important issues. Job instability, healthcare, Native American documentation, & reservation life. It's amazing how much is packed into a story that feels like it's not *too* full of stuff.
I just loved it. Sarah Anderson's stories have a really great balance of drama and romance – with a hint of banter/comedy thrown in. As I said above, there's a lot covered, but it's not cluttered. It takes a lot of talent to write like that, and Sarah's got it. She never, ever, EVER disappoints. I'm sure I'll be rereading this one at some point down the line. Also, I hope to see Ian again, in fact, this story is just chock full of side characters that could be made into heroes of their own.
Book Info:

Published August 5th 2014 by Harlequin
Love is one unpredictable ride
Ride straight to the top of the rodeo circuit—that's June Spotted Elk's dream. Yes, bull-riding is a man's world, but she won't let anyone—not even a sexy, scarred stranger—get in her way.
Seasoned bull rider Travis Younkin knows what it's like to make it to the top—and then hit the bottom. Back in the arena to resurrect his career, he can't afford a distraction like June. No matter how far he'll go to protect her from the danger. No matter how deeply the stubborn and beautiful rider gets to him…