Truly, Madly, Sweetly by Kira Archer: When Eric's aunt passes away, leaving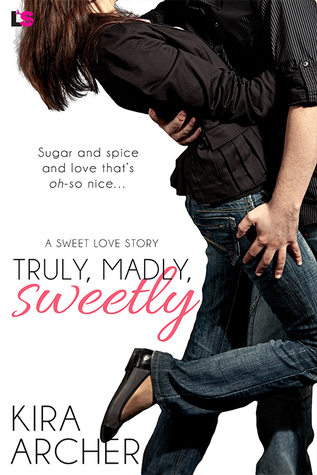 him with an old bakery and the attached garage with Nat, the cute girl he sees running the cupcake food truck, Eric plans on buying Nat out, and perhaps starting a romance with the cute baker. But Nat has wanted a bakery for ages, the truck is only the start, so instead she and Eric make a deal.
As Nat helps Eric set up and run a bakery he never knew he wanted, she keeps the garage and gets to use the kitchen space for free, a lifesaver. But as they spend day by day together, the harder it becomes to resist the pull of attraction.
Except, Eric has some pushy relatives and both Nat and Eric are wary about the others motives. In the end, can they trust the other when they both want their businesses to succeed, and perhaps even see their romance through?
"Uh-huh. Looks like Nat was being a very thorough teacher."
Nat frowned slightly, trying to catch Gina's meaning. Then she followed Gina's gaze and nearly swallowed her tongue…. Nat's eyes dropped to his crotch, then back up. He looked down. And immediately turned his back, his hands brushing at what was very obviously the flour imprint of a hand.
Truly, Madly, Sweetly is the perfect title for Archer's latest. It's adorable, and boy are they sweet on one another. A fun, quick read, I loved being in this world with a cute bakery and a quirky baker. Nat was my favorite. Even with a wall up from past pain, she's passionate and wholly into helping Eric.
Eric was a sweetheart, and his chase for his passions over his parents' desires was enjoyable to read, but he felt a bit weak. Always answering mother's constant calls and never really standing up for himself. There was a moment at the end where he finally did, but it didn't feel like enough. As a match for Nat he's lovely, but as my romantic hero he just fell a bit flat. Also, the financial consultant who has never baked in his life becoming instantly successful baker just didn't make sense. It definitely stood out, but, that said, it didn't bother me too much.
The first in the series, I'm definitely going to keep an eye out for the other – I think I know what's coming next with their two best friends and I'm excited! For any baking fan or sweetheart reader, I recommend Truly, Madly, Sweetly!
Book Info:

Publication: April 4, 2016 | Entangled Publishing | Sweet Love #1
Sugar and spice and love that's oh-so nice…
An inherited parking spot. That's all it took to make Natalie Moran's food truck dreams come true. But her dream space is attached to a bakery inherited by someone else—drop dead gorgeous Eric Schneider, a financial consultant who wouldn't know a cupcake from a cannoli. And he wants to buy Nat out, no matter what she has to say about it.
Eric's determined to build his own business, but he needs the super cute klutz with the cupcake truck to help. If Nat will teach him the basics of running a bakery, he'll give her free kitchen time. Except…neither expects the heat burning between them or the possibility that their arrangement might become permanent.
When it all blows up, Nat is convinced his actions mean betrayal. It's up to Eric to regain her trust and show her he's a man who is truly, madly in love with her, before she disappears from his life forever.