Turn Up the Heat (Pine Mountain #1) by Kimberly Kincaid: Turn Up the Heat by Kimberly Kincaid is a page turner, with laughter, scrumptious food, and a very hunky car mechanic. Oh and lots of snow! Imagine that, but for this story, I totally did not mind the blizzards!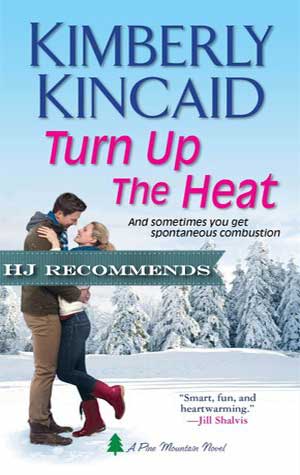 Bellamy Blake was blindsided when her anchorman boyfriend, Derrick, had just announced on TV he was moving to San Diego for a new job, without a word to her! When confronted he said those three fateful words that turn every woman into a screaming banshee….."It's not you." After spending some time therapy shopping (lingerie and shoes of course) she contacts her besties after seeing a billboard advertisement, and told them to pack their bags…..they were heading to Pine Mountain Resort for a girls get away. Who would have guessed that her week from hell would get even worse when her car breaks down, there is no cell service and HOT mechanic Shane Griffin is the only one around to fix her broken Mazda.
Shane Griffin has bigger things to worry about, like how he was going to pay off a loan without selling his vintage mustang, not how to get the transmission out of Bellamy's car, or worse yet, how is he going to get it fixed by the end of the week as promised when a blizzard has shut down the entire East Coast. However, when Shane and Bellamy are snowed in together for 24 hours, the sparks that they have been trying to deny are just a little too hot, and no amount of snowfall is about to cool them down.
This is the first novel in Pine Mountain series, and it's a great start. I loved the descriptions of Pine Mountain, the setting for this story. I loved the characters. Bellamy's best friends Jenna and Holly are hilarious! The situations that they get into had me laughing out loud. I loved Grady and Jackson, Shane's boss and bestfriend. I loved the banter between Bellamy and Shane. They tried to poke at each other to get a reaction, and most of the time their thoughts were the same…."Ain't that just HOT." Shane has a major secret, but I am not going to give it away. Just know that if two characters deserve a HEA it is these two. I loved everything about this book, and look forward to visition Pine Mountain again. I give this book 5 sweet stars.
Book Info:

Published March 4th 2014 by Zebra
"It's not you."
There are only so many times a girl can hear those words before she believes that it is, in fact, very much her. Unexpectedly jilted by her locally famous boyfriend and haunted by a boss who makes Attila the Hun look like a lap dog, Bellamy Blake does what any self-respecting girl in her shoes would do. She rounds up her two best girlfriends and makes plans to get the hell out of Dodge.
But Bellamy's escape plan takes a nose dive on the side of rural route 164 when her transmission self-destructs, leaving her in the middle of a cell phone dead zone with nothing but her wits. Oh, and Shane Griffin, the hottest mechanic who's ever checked under her hood.
Yet this small-town man isn't all he seems. Can Shane and Bellamy prove that sometimes the most unlikely ingredients make the most deliciously sexy mix?