Twelfth Night by Deanna Raybourn is a novella, number 5.6 of her "Lady Julia Gray series." It is a story so full of life and lively characters that it nearly seems like a full novel,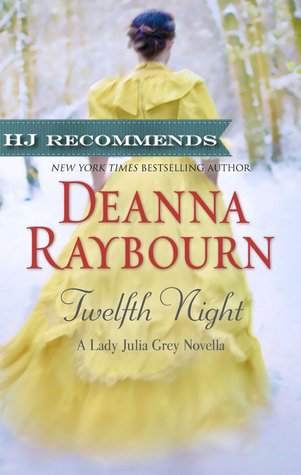 and not just fifty or so pages long. Additionally, any story about a woman who keeps a dormouse tucked into her bosom is worth reading:
As if on cue, a tiny furred head peeped out of my décolletage.… Snug gave me a long look with his sadly sweet brown eyes and dove into my décolletage again.
The story starts out with Julia and her husband Nicholas Brisbane in bed, and being rudely awakened by her sister Portia. They are at the family home of Bellmont Abbey to preform the Twelfth Night Revels for their village, along with her entire large family. Not only is getting the family to cooperate for the performance a challenge, but an abandoned baby has been found in the stables, which seems oddly appropriate for the holiday season. Julia's husband is a private inquiry agent, and Julia herself, since her first husband's death, has become one as well, and a partner both in marriage and business with Nicholas. Now they have been tasked with finding out the story behind the abandoned child. Other children are in residences, in particular Julia's precocious niece and nephew Perdita and Tarquin, who want to get involved with the case, and tell her about the return of a ghostly witch to a remote forest cottage. And then, to make the situation more complicated, the entire family save Julia and Nicholas come down with food poisoning.
This story is fast moving, and more revelational than romantic, as that it both sets up and gives more background story to both Julia and Nicholas. In other words, it enhances both past stories in the series, and future stories, by giving up more backstory to fill in the chinks that may exist. It is enjoyable, energetic and interesting, and if you are a fan of the "Lady Julia Gray series" it is definitely a must-read. If you are new to the series, as I was, it will make you want to go back to the beginning, and learn more about this very intriguing couple!
Book Info:

Published June 1st 2014 by Harlequin MIRA
New York Times bestselling author Deanna Raybourn returns with a brand-new novella, starring her beloved heroine, the intrepid Lady Julia Grey
To mark the passing of another decade, the esteemed (and eccentric) March family have assembled at Bellmont Abbey to perform the Twelfth Night Revels for their sleepy English village. But before Lady Julia and her handsome sleuthing husband, Nicolas Brisbane, can take to the stage, a ruckus in the stable yard demands their attention. An abandoned infant is found nestled in the steel helm of St. George. What's more, their only lead is the local legend of a haunted cottage and its ghastly inhabitant—who seems to have returned.
Once again, Lady Julia and Nicholas take up the challenge to investigate, and when the source of the mystery is revealed, they'll be faced with an impossible choice—one that will alter the course of their lives…forever.