Twist by Kylie Scott is book two in the Dive Bar Series and highly entertaining.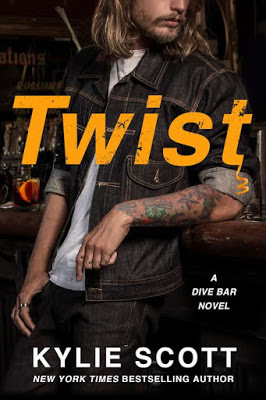 I've never read a book by this author, but now that I have, I want to buy everything she's written. The dialogue was fun and easy-going, same with the characters. Not to mention, that the beginning of the story is freaking hilarious. The author weaves drama and humor together like a pro and will have readers begging to read more.
Alex Parks gets on a plane to visit the man she's been emailing. She believes that Eric is the guy she's been talking to, so she plans to surprise him. Only, he has no idea who she is and what she's talking about. In fact, it's his brother, Joe, who's been pretending to be him. To say she's embarrassed, is putting it lightly and she doesn't want anything to do with Eric, the real one or the pretend one. All she wants to do is get a hotel room and grab the next flight out. Too bad, that's not going to happen.
Joe Collins is sorry for lying to Alex, but not sorry that he started talking to her. She was a breath of fresh air for him and someone who he could tell his problems to without judgement. When Alex gets sick, he nurses her back to health, showing her his sweet side.
I loved Alex as the heroine. She's intelligent, funny, and is a really great friend to have. She doesn't do relationships, instead, only doing one-night-stands. I thought that was awesome of the author showing people that it's not only men who do the whole one-night stand thing, but women, as well. Alex is cautious and tries to avoid people, except for her best friend. But Joe is slowing breaking down her walls and making her feel things.
"I'd crushed on him hard.
Then I'd hated him with the fire of a thousand suns.
Now I liked him and his body far more than I should."
As for Joe, he really is such a nice guy. The only thing he needs to work on is saying "no" to people. When Alex and Joe start to become friends, he suggests that they switch roles. He will start saying "no" to more people and she will get out there and mingle with other people. This little experiment brings them closer together.
The only issue I had was the whole ex-girlfriend coming back into the picture to seduce our hero. He had just gone through a terrible ordeal, so I'm not giving him too much of a hard time, but seriously, he should have nipped that in the butt right after the massage. Overall, Twist, is a must-read for those who enjoy a captivating read with plenty of drama and humor in their books.

Book Info:

Publication: April 11th 2017 | St. Martin's Griffin | Dive Bar #2
When his younger brother loses interest in online dating, hot, bearded, bartender extraordinaire, Joe Collins, only intends to log into his account and shut it down. Until he reads about her.
Alex Parks is funny, friendly, and pretty much everything he's been looking for in a woman. And in no time at all they're emailing up a storm, telling each other their deepest darkest secrets… apart from the one that really matters.
And when it comes to love, serving it straight up works better than with a twist.