Tycoon Cowboy's Baby Surprise by Katherine Garbera: Three years ago one of the most amazing weekends happened, then shortly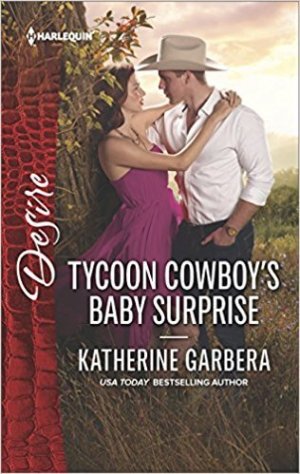 after one of the worst phone calls of her life.
Kinley Quentin knew coming back to her hometown was not the best idea for her or for her daughter. However when her boss asked/told her that was where she was headed there wasn't a reason she could give, or at least one that she was ready to give. She would be okay though, she just had to figure out a way to deal with what she had been avoiding for almost three years.
Nate Caruthers was a bad boy. He knew he liked to party and indulge in anything other than long term. He loved his life too much the way it was. Nate also knew the one person he should never have had a fling with was the one he wanted back and wanted more than he should so when he heard her voice it was like a sign.
However as most secrets do, when the secrets come out everything changes in an instant and the future is no longer certain. Can they make it work?
Ms. Garbera has a great way of intertwining her novels and this is no exception. It does a great job at furthering stories and giving a good romance in the meantime. This story does have a couple of down and dirty moments that will definitely have you excited but overall is about learning to overcome the past. The only real criticism is how it wrapped up, almost as if their were no more words allowed, unlike any other Garbera novel while it gives a happy ending there aren't many explanations. Still worthy of a beach read though.

Book Info:

Published May 9th 2017 | Harlequin Desire | Wild Caruthers Bachelors #1
It only takes one night in Vegas… From USA TODAY bestselling author Katherine Garbera.
Wedding planner Kinley Quinten's luck runs out when her job brings her back to Texas–and face-to-face with her child's father, rancher Nate Caruthers. The passion that got them in trouble during a one-night stand three years ago is still there, too strong to deny.
Nate can't help it: Kinley gets under his skin. But what happened in Vegas really needs to stay there. Too bad that cliche only gets him so far as he falls for the woman whose baby secret will change everything!