Royal Treatment by Parker Swift: Although Dylan and Lydia are engaged, they're keeping it a secret. Lydia just wants time to be her,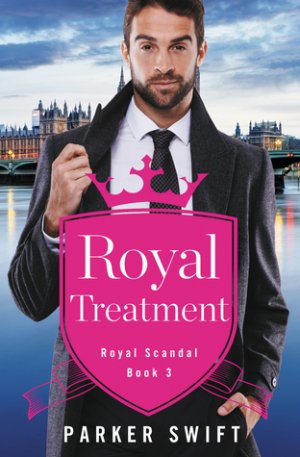 take advantage of being independent and not worrying about the duchess lifestyle. Dylan's just ready to marry her and start their life together.
As Lydia's career begins ramping up, and she and Dylan are fully understanding what marriage will mean for Lydia, worry arises. Will love be enough to make it all worthwhile?
I like Lydia and Dylan. They have a great love and romance, and they're definitely a sexy couple. But this story just felt pointless. They're together. I don't worry about them being together, and so I'm just left a bit bored. It's about their lives and fake conflict.
What I can say is I like the way their lives are turning and the intimacy they continue to build. That they both always fight for one another, especially when the other is worried. For those who want to finish off their romance and get that final happily ever after, I recommend Royal Treatment.
Book Info:

Publication: June 13, 2017 | Forever Yours | Royal Scandal #3
All this duke needs is his duchess…
For five blissful months I've been engaged to Dylan Hale, the most handsome, commanding, and wickedly sexy duke in England. For five months I've woken up next to the man I love, indulged in secret trysts, and submitted to every delicious desire. Even better? We've managed to keep it hidden from everyone. That means no paparazzi scandals, no snide comments from Dylan's mother, and no harsh public scrutiny. It's been heaven, but with Dylan's royal responsibilities looming, our time alone is running out. And while I can't wait to be Dylan's wife, I'm terrified that becoming Dylan's duchess might mean losing myself.