Fury of Surrender by Coreene Callahan is the sixth book in the Dragonfury series. Forge, sentenced to death for the murder of his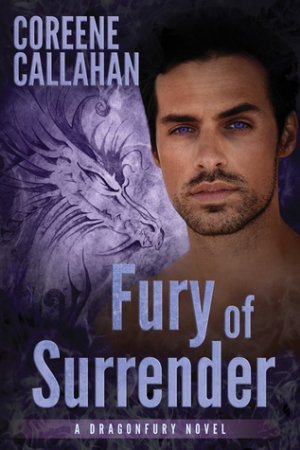 family, has been hiding out with the Nightfury pack, who have taken him and his infant son in. Determined to recover his memories of that night to clear his name, the pack brings in human hypnotherapist Hope Cunningham. The attraction between them is immediate, but can Hope help Forge recover his memories before it's too late?
First off, I highly recommend reading the previous books before starting this one. I haven't read any of the other books and I was left feeling like I was missing things. Right from the start, the characters from the previous books are featured, jumping in as if readers are expected to know who they are and what roles they play in the pack, as well as their backstories. There's also a side story of one dragon from another pack trying to create an antivirus. I was confused because, once again, it felt like readers were expected to know about this virus and what effect it was having. There's also another side story about Rodin and his attempt to get the Nightfury pack exiled. Not having read the previous books, I wasn't sure why he was so insistent on going after them.
While I liked Forge and Hope as individuals, I thought their romance fell a bit flat. It was pretty much an instant romance. Forge doesn't even reveal his true nature until closer to the end of the book. Hope's reaction to learning that Forge was a dragon was not realistic. It was hard to believe she accepted it as quickly as she did.
I would have liked to have seen more interaction between Forge and his son. Instead, it seemed like the women of the pack were more responsible for his son's care than he was. I was disappointed with that, as I would have liked to have gotten a feeling of how he was as a father.
I would recommend this book to those who enjoy paranormal books about shifters. I liked the story, but I didn't love it, and I can't help but wonder if maybe I would have enjoyed it more if I had read the previous books and understood more of what was going on.

Book Info: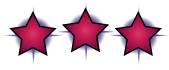 Publication: July 11, 2017 | Montlake Romance | Dragonfury #6
Dragon warrior Forge has been sentenced to death by the Dragonkind elite. Recalling the memories of his family's murders could drive him to the edge of insanity, but it's the only way to remove the target on his back. Fiercely determined to protect his pack and his newborn son, Forge agrees to undergo harrowing treatments to help him remember the trauma buried deep inside his heart and mind. When nothing works, a woman of unprecedented power is brought in to help.
Young, bright, and haunted by her own demons, hypnotherapist Hope Cunningham helps patients recover from their darkest memories. But each time she liberates a wayward soul, Hope's personal pain digs deeper—until one patient ignites an unforgettable passion.
Forge's healing journey is not without risk. Unwittingly, he has put Hope in the middle of a dangerous war, one that could shatter their eternal bond. Will the curative power of love be enough to save them?