I went into Unbound by Cara McKenna totally blind, didn't read the blurb or even see the cover, so I had no idea at all what to expect! I loved, loved it!! Cara managed to pull me in as soon as I met Merry, and she kept me there, immersed in a fantastic story!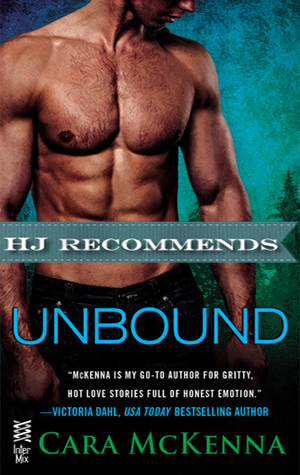 Since Merry's mother died a year ago, Merry has made some big life changes. But she also feels like she doesn't know who she is anymore. To take time for herself, to celebrate herself, and to see where her mother was from, Merry takes a 3 week solo hiking holiday in Scotland. Two weeks into her adventure, Merry becomes quite ill and is in need of proper shelter. Very isolated, Merry remembers a small cabin she passed and backtracks to it, hoping to find help as she becomes sicker and sicker.
When Rob opens his cabin door to a sick and bleeding Merry, he reluctantly lets her in and hopes she won't stay long. Having fled the city, it's temptations and his problems there, by choice Rob lives a very isolated existence. And existence it is. Rob is hiding from his past and his future. He has always felt different, has always known he was different. The shell of who he was in the city was not him, and the more he tried to hide who he was from himself and others, the more damage he did. Rob's way of dealing with this is to live a very solitary life, and avoiding most human contact. That is until Merry shows up on his doorstep and starts worming her way into his heart.
Over the next few days, Merry's calm, accepting but curious personality draws Rob more and more to her. Merry doesn't know if it's the knock on the head or really him, but she's finding Rob more and more attractive…having many fantasies about him. She knows he's got secrets, she can see the pain in his eyes when he thinks she can't. Rob feels like there is something wrong with him…he's ashamed of his deepest, secret self. But Merry is intrigued with Rob…and not at all put off by his secret fetish. In fact she relishes in it, and for the first time ever, Rob can let that part of himself go…even if just for a little while. Merry is only there for a few days, but Rob and Merry become very close. Not close enough though that Rob shares all of himself with Merry…he still has shame and secrets that he has trouble parting with. With strong feelings on both sides and Merry hoping to come back to see Rob, will his secrets be the ultimate down fall of whatever they might have?
First I have to say that no summary or review I can write will do justice to Unbound by Cara McKenna. Cara gives us two very strong characters that you will come to care and feel for deeply. Unbound takes us on a journey of self discovery for both Merry and Rob, one they will unknowingly embark on together when Merry ends up on his door step. Both Cara and Rob are deep people, but Rob especially will draw you in. He would not want you to feel sorry for him, but you will feel for him. For the boy he was and the man he's become. I see Merry and Rob as gifts for each other. Merry has a father, but I didn't get that she saw him that much…Rob has family he is estranged from and no friends. Together they will find acceptance and love…even for the short time they are together it will be lasting in their hearts.
I loved how Cara really developed the characters and the plot line. I really got to know Merry and Rob and enjoy their interactions before Rob comes clean with his fetish. I felt like Cara led up to this fantastically…you still didn't really know where things were going until you were there! This added a whole new layer to their relationship, and it was a very meaningful layer. Not just about sex, but about trust and Rob not feeling shamed for the first time, that he could share with Merry.
Cara McKenna writes a very powerful love story in Unbound. I was thinking about the book even when I was not reading it! I highly recommend Unbound to any romance reader who doesn't mind some eroticism and is looking for a very consuming story! Loved it! I will definitely read more of Cara's books.
Book Info:

HJ Recommends
Publication: October 15th 2013 by InterMix
An all-new novel from the author of After Hours.
She set out to find herself, and discovered the darker side of desire.
Merry's lost a lot recently—first her mother, then close to a hundred pounds. Feeling adrift, she strikes out in search of perspective. A three-week hike through the Scottish Highlands was supposed to challenge her new body and refocus her priorities, but when disaster strikes, she's forced to seek refuge in the remote home of a brooding, handsome stranger…
Rob exiled himself to the Highlands years ago, desperate to escape his own self-destruction. Haunted by regrets, he avoids human contact at all costs…but when Merry turns up injured, he can't very well run her off. And as he nurses her back to health, Rob can't resist his guest's sweet demeanor—or her flirtatious advances. The igniting passion between them rouses a secret appetite Rob has long struggled to keep hidden. But Merry craves nothing more than to help Rob surrender to his desires, and the journey draws the lovers into an entirely different kind of wilderness.