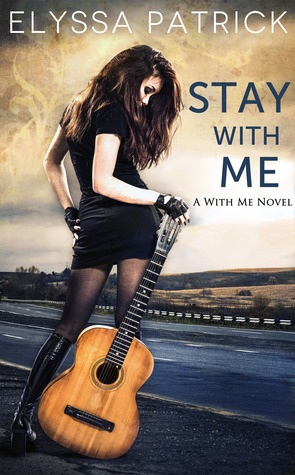 Stay With Me by Elyssa Patrick: What a sweet and sexy first book in a brand new series. "Stay With Me" by Elyssa Patrick was filled with lovable characters and a very believable and addictive storyline. Though it does have some adult content, so I would only recommend this book to those of you that are over seventeen.
I found the musical theme to this book very intriguing and it added a great backdrop to Hailey and Caleb's super sexy relationship. Not only were the main characters pulling at my heart strings but so was the super sexy and shy librarian Griff. Ms. Patrick truly accomplished writing a great and epic love story that I can see many readers enjoying immensely.
Though I must admit, Hailey's mother really got on my nerves. She is one of the main reasons this book didn't get the best rating from me. She created so many problems for her daughter, and I found myself wondering if I could finish the book. Yes she was that bad, at least in my opinion.
But overall I think this book had a lot of potential and I would definitely give the other books in the series a chance.
Book Info:

Published August 30th 2013 by Elyssa Patrick (first published August 22nd 2013)
New Adult/Contemporary Romance – recommended for ages 17 and up.
With one look, I'm his . . .
With one touch, he's mine . . .
With one kiss, it changes everything between us . . .
I've been famous since I can remember. Singing, acting, dancing—I've done it all. The tabloids cover my every move, but I don't want that anymore. I want to be normal, whatever that is.
When I leave Hollywood for college in Vermont, I'm on my own for the first time in my life. This is my chance to figure out who I am and what I want in life.
But it's a lot harder than I expected. I can't escape my image. Classes are difficult, and I'm struggling. And then there's Caleb Fox.
Sexy, intriguing Caleb Fox.
Caleb is the one man who doesn't want to use me. He breaks down my walls. He challenges me. He wants me. And I just don't know if I can give him the same—or if he'll stick around when he finds out my shameful secret that the tabloids haven't managed to uncover.
Dating him is risky enough, but loving him could break me.