Unbreak My Heart by Nicole Jacquelyn: Kate is between a rock and a hard place; she's been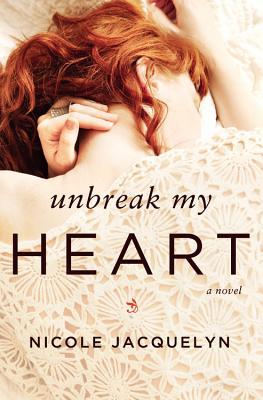 in love with Shane since they were teenagers, but she's helping her best friend Rachel raise her and Shane's kids whenever he's deployed. Kate loves those kids as if they were her own, but it's heartbreaking to put aside her own feelings while being unable to move on with any sort of meaningful relationship.
Kate and Shane are utterly heartbroken when Rachel unexpectedly dies while pregnant. Without a second thought, Kate steps in to help Shane as much as he will allow. Shane has always been aware of Kate's feelings for him, but he was never able to handle how she's made him feel. He's tried to avoid her during his marriage and now he's struggling with the role she has in his life and the lives of his children.
"They're not yours." I couldn't stop the words before they came rushing out of my mouth, but I regretted them the same second the smile fell off her face.
"I've been calling them my monsters since they were born, Shane," she said flatly. "I'm not going to stop because you've got a stick up your ass for some reason I can't comprehend."
While Kate and Shane are still awkwardly dancing around each other, their inconvenient attraction finally comes to a head one night. The tension continues to build between them after that night as they have to prepare for Kate to take over as a single parent while Shane is again deployed. The distance actually helps to smooth out their tense relationship as they banter and flirt.
"You blush like a little girl," I needled him, jumping when he took a step back toward me.
"I don't blush," he argued.
"Oh, yeah, you do. You turn red like a tomato."
I screeched as he moved for me and laughed hysterically as he chased me around the table.
Unbreak My Heart is a completely engaging, sweet, devastating, heartbreaking, and angst-filled story that captivated me from the beginning. Nicole Jacquelyn takes you on a rollercoaster ride of emotional ups and downs as a family has to find their way forward after a loss. Ms. Jacquelyn created complicated and real characters main and secondary characters. Fans of Jasinda Wilder and L.A. Fiore will enjoy Unbreak My Heart.
Book Info:

Publication: Expected publication: June 7th 2016 | Forever |
What do you do when your soul mate marries your best friend?
If you're Kate Evans, you keep your friend Rachel, bond with her kids, and bury your feelings for her husband. The fact that Shane's in the military and away for long periods helps-but when tragedy strikes, everything changes.
After Rachel, pregnant with her fourth child, dies in a car accident and the baby miraculously survives, Kate upends her entire life to share parenting duties. Then on the first anniversary of Rachel's death, Kate and Shane take comfort in each other in a night that they both soon regret.
Shane's been angry for a year, and now he feels guilty too – for sleeping with his wife's best friend and liking it . . . liking her. Kate's ability to read him like a book may have once sent Shane running, but their lives are forever entwined and they are growing closer.
Now with Shane deployed for seven months, Kate is on her own and struggling with being a single parent. Shane is loving and supportive from thousands of miles away, but his homecoming brings a betrayal Kate never saw coming. So Kate's only choice is to fight for the future she deserves – with or without Shane. . .