In Uncontrollable (Beyond Human #3) by Nina Croft, Melody Lyons has a job to do. Working for the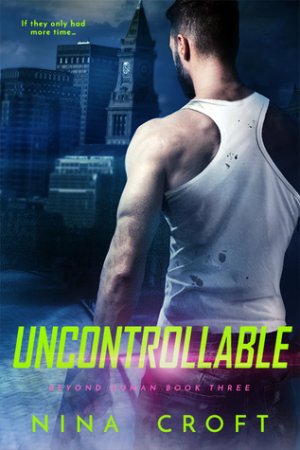 Federation's elite Time Control Unit, she's faces plenty of challenges. Yet, she never imagined while hunting rogue time travellers, she'd fall in love with a man with telepathic talent who died many years before her time when she journeys back to the twenty-first century. Will Melody give up everything she's worked so hard for to be with Quinn or will she walk away before it becomes impossible for her to return to her time?
"What happens if you find an anomaly?"
"Honestly, I don't know. Our goal is to remove the source, with as few ripples in time as possible."
"Remove?"
She pursed her lips. She didn't want to lie. "Usually it's a matter of sending them back to where they belong. We prosecute them in their own time."
"You don't kill them?"
This is such a fascinating series and this book encompasses time travel, a group of telepaths trying to stay one step ahead of others that want them dead and knowledge of a catastrophic event that could have deadly consequences. Sounds interesting, doesn't it? And it certainly was. The way this story started with what Quinn and his friends are doing sets the fast pace of the story and had me reading quickly, determined to discover more about Melody once the hero and heroine come face-to-face for the first time. Since there's something different about Melody for the hero and she's unlike anyone he's ever known before. What is it about Melody that unsettles him?
As for the dialogue, it was intense due to the main characters back stories and everything these two go through on their journey to happy ever after, as Melody is such a mystery to Quinn and he has to decide whether he can trust her or not. Will Quinn put his trust in Melody? Moreover, I really liked both the main characters because of their growing relationship, as they're enigmas to each other and both have their missions and aren't willing to deviate from them. Will Melody be able to achieve her mission? Will Quinn be able to help and protect his fellow telepaths?
"From what I can tell, they can't even open the f***ing thing?"
"So why will they complain? You can explain why it needs to be done."
"Well, you see the time machine is part of something bigger. Kane and his people believe they were sent from God-knows-where, for some sort of sacred mission. They've managed to totally forget what that mission is, but apparently, all will be revealed through the machine when the time is right."
"And do you know when the time is right?"
"2020."
Her mind went blank. "Holy sh**, no."
With the heroine, she's strong and brave when it comes to her job and I liked how much of a challenge she provided for Quinn. Telling someone all about what she does isn't easy, especially since revealing too much could have a dire effect on the future and cause it to change. Will Melody reveal too much? Will she find the rogue travellers? While the hero, he's confident; smart; protective of those he cares about; and I liked that he was willing to work with the heroine, even though he doesn't know whether he can trust her because he can't read her like he can other people. Why can't he read her like he can other people? Yet, what I liked most of all about this couple is how protective they are of each other, which is proven when things happen that cause one of them to act rashly.
Overall, Ms. Croft has delivered another really good read for this series where the chemistry between his couple was intense and tangible from the moment they meet, even if they do start off as enemies after what happens between them; the romance was nicely-detailed and had me loving that the heroine gave Quinn a chance, considering how relationships are in her time; and the ending had me on the edge-of-my-seat with worry for the main characters, but had me liking the decision the heroine made. How could she not want to be with Quinn and help him all she can, especially when she has knowledge of the future? Yet, it was the epilogue that wrapped this story up wonderfully and has me looking forward to what comes next for this series. Will Quinn and Melody be able to save those Quinn cares about, especially with what's coming? I would recommend Uncontrollable by Nina Croft, if you enjoy paranormal romance, the enemy to lovers trope, time travel romance or books by authors Suzanne Wright, Shannon McKenna, Thea Harrison and Lara Adrian.

Book Info:

Publication: September 24th, 2018 | Entangled Publishing | Beyond Human #3
Quinn Sutherland, second in command of the Tribe, a group of powerful telepaths, has always been certain of who and what he is — one of the good guys. All he wants is to keep his friends safe — no easy feat when everyone in the world is after them. While on a rescue mission, he meets a mysterious FBI agent, who appears to know a lot about them, and seems to want the same thing he does. But her assignment could literally mean the death of him…
When Melody Lyons is inducted into the Federation's elite Time Control Unit, it's the pinnacle of her ambitions. Only when she's sent back to the twenty-first century to eliminate a group of rogue time travelers, she never guesses she'll fall for a man who died two thousand years ago… Quinn awakens emotions she hadn't known existed, and for the first time, her loyalties are tested.