In Uncovering Her Nine Month Secret by Jennie Lucas, A first glance from the dark and unfathomable Alejandro, the notorious Duke of Alzacar sealed Lena Carlisle fate. He broke down her defenses and left her without a backward glance after seducing her but unknown to him, their passion had consequences. Leana had no choice but to flee and go into hiding for the sake of their son.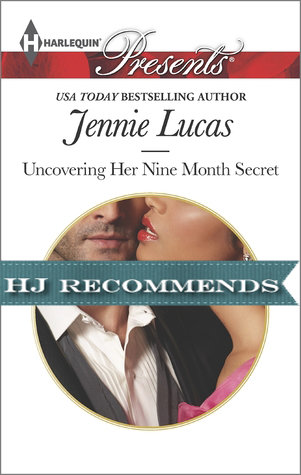 Now after nine months, Alejandro has found Lena and she is determined to not let him anywhere near her or let him take away their son from her. But Alejandro will stop at nothing to get what is rightfully his.
Uncovering Her Nine Month Secret by Jennie Lucas is written entirely in the heroine's POV. Generally, I'm not a big fan of first person perspective but it worked in this case because delving into the hero's mind would have ruined the story. To be honest, I did not really connect to both the characters and there was nothing in their personality which I admired. Lena is a Cinderella like heroine because her circumstances are very much similar to the fairy tale princess. She was a nice and sweet heroine but I did not like the way she easily forgave those who had wronged her so much. I wish she would have stood for herself and not had a Cinderella like personality. Alejandro is no prince charming and has his own demons from his past.
I loved the drama and over the top villains of the story though. They added an extra spice to the story and made the steamy romance even more interesting. Though the characters are not all that special, the story hooks you with its twists and passionate romance scenes. I liked how the romance progressed in a medium pace and something new kept coming up at every chapter.
Overall, Uncovering Her Nine Month Secret by Jennie Lucas is a well written Cinderella themed romance with a pregnancy trope.
Book Info:

Published July 15th 2014 by Harlequin Presents Series #3259
"You wouldn't have been able to resist either, believe me."
He broke down my defenses as if they were paper. One dark, unfathomable glance from Alejandro, the notorious Duke of Alzacar, and I was his. It was only later that I realized why he'd seduced me, and I had no choice but to flee.
Nine months on, he's found me. No matter how my body and my heart react to him, I can never let the duke take our son away from me. But Alejandro will stop at nothing. I just have one card left to play…