In The Inheritance by Olivia Mayfield, Maggie is back in her home town for her estranged grandfather's funeral. She hasn't been home often in the past 8 years. Bad memories linger and her family home is no longer a comfortable place to be. Maggie's plan to leave again is suddenly put on hold with the reading of her wealthy grandfather's will. His entire worth is to be left to one of four people he has chosen to investigate and solve the disappearance of Maggie's younger sister 8 years ago. This investigation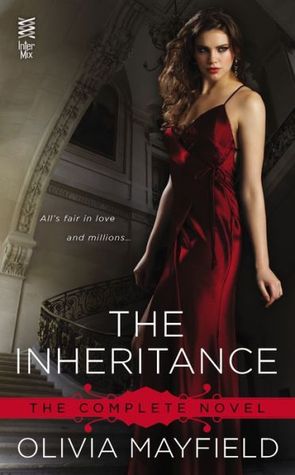 brings Maggie, her brother Robert, former high school boyfriend Andrew and former high school friend Bethany together again – whether they like it or not – and puts them in competition against one another.
All the feelings Maggie thought she'd left behind are rushing back….including the ones she had for Andrew. She unexpectedly finds herself just as attracted to him now as she was in high school. As Maggie starts her investigation and stirs up the past, someone doesn't seem to want it remembered. Secrets from the past start to slip out, and Maggie doesn't know who, if anyone she can trust, especially with so much money at stake. Despite the danger, Maggie forges ahead, determined to at last find out what happened to her sister. At the same time, her relationship with Andrew is regrowing and the chemistry between them sizzles. But is it real, or does it all boil down to the investigation? Will Maggie and her family finally have answers to her sisters disappearance?
The Inheritance was initially a six part serial, but I read it all in the entire book The Inheritance. Olivia drew me in quickly and roused my curiosity within the first few pages. While I found the plot to be a little unbelievable – these 4 people suddenly investigating a missing person – Olivia made the characters, their feelings, (most of) the secrets, and the chemistry between Andrew and Maggie realistic. Told from Maggie's POV, I felt like I really got to know Maggie and like her. She's tried hard to move on from the past, she's successful and independent. She is also doing what she feels is the right thing, regardless of the consequences. I liked how Maggie's character grew (a good example is her relationship with Bethany) and was flexible in The Inheritance.
The romance between Andrew and Maggie really plays a secondary role to the mystery they are all trying to solve, and Olivia manages to blend the two together so the flow is great and the pace is never dull. Olivia kept me intrigued from start to finish with suspense and plot twists I never saw coming! I found it a good read because the plot was not predictable.
The secondary characters add allure and depth to The Inheritance because they all have a story and secrets too…from Andrew to Maggie's parents.
With an eight year old mystery and a second chance romance, The Inheritance is a book I'd recommend to romance readers looking for chemistry, suspense, and surprises.
Book Info:

Published July 15th 2014 by Berkley InterMix
Olivia Mayfield's thrilling and sexy novel about seductive money, deadly secrets, and fatal attractions—available in one complete edition!
Maggie Willings knew that returning home for her estranged grandfather's funeral would not be easy, but she never expected the reading of his will to be the most difficult part. It turns out her grandfather named four people beneficiaries to his vast estate—Maggie, her brother Robert, her ex-boyfriend Andrew, and her grandfather's far-too-young girlfriend Bethany. But only one of them will win his millions: whoever finds out the truth about what happened to Maggie's younger sister Cassandra, who vanished over eight years ago.
As her grandfather's strange challenge pits Maggie against those nearest to her, she's reluctant to drag up painful memories of her sister and distracted by a lingering attraction to Andrew. But as she delves deeper into her sister's mysterious vanishing, she begins to discover that each of the contestants has dangerous secrets to hide—and with ten million dollars on the line, no one, not even those she loves most, can be trusted…