"TJ opened the door and strode up to the desk, hands firmly on her hips. She was ready to do battle, he noted."
Under the Hood by Juanita Kees: TJ runs the service shop of the car dealership that Scott has just taken over and their first meeting is explosive! They start off on the wrong foot and Scott fires her. He soon realizes that the service shop doesn't run very well without her though, and with some convincing TJ returns to the dealtership to work. They feel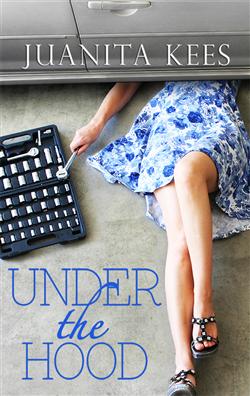 sparks for each other immediately, but as TJ says "I'm chalk and he's cheese". TJ decides that the best thing to do is to ignore the spark and try to make some boundaries, after all she works for him and has more important issues to focus on. Scott feels the spark too, but he's not as inclined to try to ignore it.
Scott is feeling unsettled since his move to this dealership, a feeling unfamiliar for him. TJ has a goal…she wants to help at risk youth and is willing to put herself out there to do it, including an apprenticeship program at the dealership and a housing project on her property. When Scott first showed up she was worried he'd decide the apprenticeship program wasn't worth doing, but Scott has found it gives him a sense of purpose too. TJ needs help, she is running into barriers to the project everywhere, and Scott is just the man to help her. TJ admits to herself the kids are more important than not accepting Scott's help, no matter how dangerous for her heart it might be for her to be close to him. Scott moves into one of TJ's spare bedrooms to help supervise the youth and and he and TJ slowly begin to build a relationship.
As their relationship grows so does the program for the at risk youth, particularly Marty and Tiny, two of the teenagers. However, they have gang connections and there are a lot of dark undertones and worry about them for TJ and Scott. Can they protect them and steer them in the right direction before the worst happens? Can her and Scott make a go of a relationship despite TJ's feelings that they are too different for each other? Does the worst have to happen before they can trust that any relationship they have can be a good thing?
In Under the Hood Juanita Kees gives a story about much more than the relationship of TJ and Scott. It's about that and their desire to do good and help others who might not have the life skills they need to be safe. We read about the perceived barriers to both the relationship and the program TJ and Scott are working on, and how they could work through those barriers. I really liked both TJ and Scott. They were both open, honest and strong characters that were easy to relate too.
I really enjoyed reading this book, it's a great love story. However I feel a few of the loose ends could have been tied up at the conclusion instead of leaving the reader not knowing how some parts of Under the Hood turned out. Overall I'd recommend this great read!!
Rating:
Book Info: Publisher: Escape Publishing – Harlequin Enterprises, Australia Pty Ltd (March 1, 2013)
When Scott Devin buys a struggling car dealership in semi-rural Western Australia, the last person he expects to see in charge is a stilletto-wearing, mini-skirted foreperson. Exactly the distraction a struggling, male-dominated workshop doesn't need! But there's more to TJ Stevens than meets the eye.
TJ Stevens has two major goals in life: to preserve her grandfather's heritage and protect her teenage rehabilitation program — and she'll go to any lengths to do it. Scott Devin's presence is a threat to everything she's worked hard to achieve, so keeping him at arms length shouldn't be a problem…or will it?