All He Ever Desired by Shannon Stacey: Romantic, sexy, fun and with just the right amount of drama. What more can we ask for in a romance book?
We've all asked the question of "What if", well this is what Lauren has been asking herself since she declined Ryan's proposal to leave her husband and go with him . Now many years later divorced Lauren finds herself trying to live day-to-day supporting her moody teenage son and dealing with her bitter ex-husband.
Ryan has come back to Whitford, Maine to help his family repair their inn which is in really bad shape. He has been married and divorced, has a company that he built from the ground up and a beautiful house in Brookline, Massachusetts. He thinks he doesn't need anything else, until he runs into Lauren. Now he is feeling lust for her but is he willing to put himself on the line again?
Second chances in love are not easy and for Lauren and Ryan a second chance at first love is definitely not easy. With a teenager, an ex-husband and a whole town meddling how can they build a relationship without someone wanting to interfere. There is also the whole getting over the past and giving themselves a chance at a future. But will Ryan and Lauren be able to let go of pride and fear of change in order to find true happiness? You have to read it to find out. 🙂
If you haven't read the other books in this series don't be afraid to jump in the middle, you won't feel like you are missing a piece of a puzzle. The book is fun, the story complete and based more on the main characters than the story from the others in the book. I promise you won't regret reading this book, I know I didn't. 😉
Rating: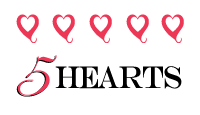 Book Info: Publisher: Harlequin HQN (February 26, 2013)
A second shot at first love?
After college, Ryan Kowalski decided to leave Whitford, Maine, rather than watch Lauren Carpenter marry another man. Now his siblings need his help to refurbish the family-owned Northern Star Lodge and he's forced to face the past sooner rather than later when he collars a vandal—and learns the boy is Lauren's son….
The last person Lauren needs back in her life is Ryan Kowalski. With a bitter ex-husband and a moody teenage son, she has enough man trouble already. But her son needs to learn a few lessons about right and wrong, even if Lauren has to escort him to Ryan's door every day to work off his crime.
With all this close contact, Ryan and Lauren can't deny the chemistry between them is as powerful as ever. But can a few searing kisses erase their past and pave the way for a second chance at true love?