Unexpected by Kelly Rimmer: Abby is a planner. She needs control and stability in her life, and planning for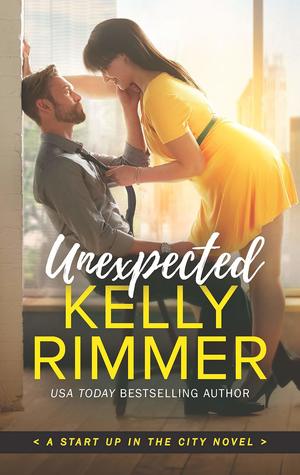 every option in her ever-expanding binders helps to combat her anxiety. She has turned her love of video games into quite the career while still being passionate about her job. While her professional life is right on track, she still hasn't found love or the partner she's looking for.
Marcus is persuasive, charming, sexy, loyal, and never wants to settle down. After seeing his parents' marriage fall apart, he's determined not to make a long-term commitment to a woman. He's not exactly the most sensitive when it comes to his relationships with women, except for Abby.
Marcus and Abby have been the best of friends for over 20 years. When Abby's last relationship fell apart, she moved in with Marcus and they've been roommates ever since. Despite the comments and questions from just about everyone from family, friends, co-workers, and exes, both insist they are only friends. They can and do rely on each other, until Abby decides now is the time to have a child.
Abby: Are we talking about what I think we're talking about?
Marcus: Yeah, let's talk. It's my turn to cook, right?
Abby: Sure. But promise me you aren't actually going to cook.
Marcus: I was going to make you pasta!
Abby pursuing single motherhood throws Marcus for a loop and changes his outlook on so many things. They decide to have a baby together, which might be the excuse they needed to act on their attraction. Becoming lovers exposes just how deep in denial they've been as this change feels natural and right. They may be opposites, but in a way that is complimentary. Adding that intimacy to their relationship brings them closer, while pushing both to reconsider their own long-held beliefs about themselves and each other.
"You're quite the seductress when you want to be."
"There's a reason why I'm a thirty-year-old spinster, Marcus."
"I don't think spinster is even a word anymore. Even so, I can give you some tips," he says and leans back in his chair."
Unexpected has angst, conflict, heat, and surprises. Kelly Rimmer provides lots of tension and denial in this friends-to-lovers with a purpose story. Ms. Rimmer developed an interesting cast of characters in their friends and family. Fans of Kendall Ryan, Abby Jimenez, and Lauren Layne will enjoy Unexpected.
Book Info:

Publication: May 28th 2019 | HQN | Start Up in the City #1
Co-parenting with her best friend. What could go wrong?
The next three decades of Abby Herbert's life are as carefully planned out as the last three were. Best career ever? Check. Great friends, one of whom she lives with in a stunning Tribeca apartment? Check. Perfect man to share her dream family? Surely just a matter of time. But then she gets devastating news from her doctor—if she wants to get pregnant, she needs to get started on that by…well, yesterday. On the bright side, she has the perfect person in mind to be the father.
Tech entrepreneur Marcus Ross has been harboring decidedly not-friends feelings toward Abby. He doesn't want to lose her and, knowing his feelings are one-sided, he's been trying to move on. When he learns about the curveball Abby's just been hit with, he promises to be there for her however she wants him to be, even if the idea of fatherhood is a little complicated for him right now. But it isn't long until boundaries start to blur, and a deal struck between friends starts to turn into something perilously close to feelings that could change everything…