In Rescued by her Rival by Amalie Berlin, when Beck Ellison ended up with the smokejumper position that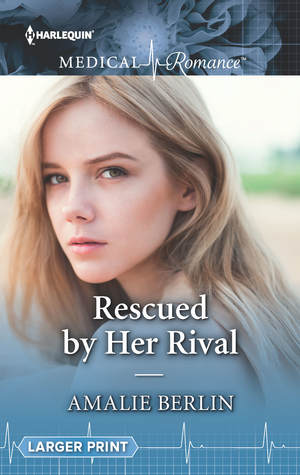 Lauren Autry desperately wanted, she was disappointed. Still, she's not one to give up on going after what she wants and what she wants is a spot on the team. So, she's back two years later and determined to prove her worth. However, she never imagined she'd see Beck among the rookie group because he's on probation. But when they're teamed with each other to fight a wildfire, Lauren finds herself needing to trust Beck and not continue to fight to prove she's better. Will Lauren and Beck be able to put their differences aside or will working together prove to be too much?
"You're pushy, Lauren."
"Damn right I am. I grew up in a fire family who still don't want me to serve. Dad's chief in our house, and my three big brothers are also all in the same station. I'm surprised you don't know that."
"You're the one who's been obsessed with me the past two years."
She paled then and in response shoved him with one hand, just hard enough for him to sway a little. "Shut up. I wasn't obsessed. I just remembered. And then your name was everywhere, like the universe was gloating at me."
Enemies to lovers is such an interesting trope and Ms. Berlin pens a fantastic read in this story filled with intense moments because Lauren and Beck are rivals; compelling dialogue that had me loving the obstacles these two face to be together and their back stories; and a delightful array of characters that face quite a challenge in battling the wildfire. The way this story started sets a nice pace for it, but I found this story didn't grab my undivided attention until the hero was introduced. How can the heroine still be so annoyed that the hero was given the position she believes should have been hers after two years?
With the main characters, they're well-developed with interesting back stories and a rivalry that won't let the heroine quit until she proves she's just as good as Beck. Really, she's driven, feisty, resilient, courageous, independent, stubborn and I liked how determined she was to help the hero because things that have happened in his past are holding him back and stopping him from getting off probation and back to his smokejumper career. Will Lauren be able to help him move past his grief and guilt? Will Beck be able to handle battling the wildfire after everything that has happened in his past?
"This from the woman whose emotions just made her have a Chihuahua-bulldog confrontation?" His voice rose enough that she saw heads turning out of the corner of her eye and knew that the conversation was done.
"There you go again, thinking I can't handle what I say I can handle. Sort it out, Beck. I like you, I really do, but if you think I'm going to let up, you haven't experienced how tenacious a Chihuahua can be."
While the hero, he's strong; brave; reckless because of everything that has happened in his past that makes him want to save as many people as he can, even if he puts his own life at risk; and I liked how determined he was to win over the heroine. Certainly, Lauren doesn't make things easy for him, but I enjoyed that he didn't give up on proving to her that he is a good guy and she shouldn't see him as her rival. Instead, she should see their rivalry as something to make her fight harder for what she wants and that's a spot on the team. Will Lauren realize that Beck isn't her enemy and could very well be an ally?
Overall, Ms. Berlin has delivered a wonderful and heartfelt read in this book where the chemistry between this couple was intense and convincing; the romance was delightful and had me loving these two together; and the ending had me worried for the main characters because of what happens during the wildfire, but had me loving that Lauren and Beck achieve their happy ever after the way they do. I would recommend Rescued by her Rival by Amalie Berlin, if you enjoy medical romances, firefighter romances, the enemy to lovers trope or books by authors Tina Beckett, Annie O'Neil, Amy Ruttan and Janice Lynn.
Book Info:

Publication: April 16th, 2019 | Harlequin Medical |
From fighting fires…to fighting attraction!
Firefighter medic Lauren Autry was devastated when she lost out on her dream job as a smoke jumper to golden boy Beck Ellison. Two years later she's trying again and surprised to see her nemesis with the rookies on probation. Beck is more brooding than ever, but still as maddeningly handsome. A wildfire forces them to work together, but it's the flaming attraction raging between them that Lauren is desperately trying to put out…