In Unexpectedly Yours by Jeannie Moon, Caroline is a geotechnical engineer working in an office with predominantly male colleagues. Very smart but socially awkward, Caroline has had no meaningful relationships with men, one close girl friend and her family. Her sister and mother are always trying to tell her what to do and her boss keeps trying to become more than a boss to her.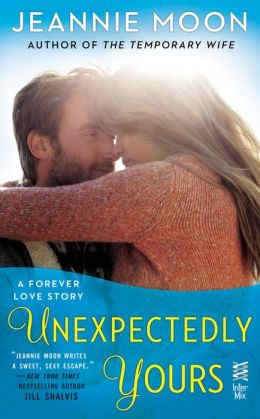 At a bar with a work friend one night, with her boss trying to get her to go out with him once again, Caroline is unexpectedly rescued by Josh. Caroline has known Josh forever. Her family used to live on his family's estate and work for them and Caroline has been in love with Josh for as long as she can remember. Caroline's older sister Meg is married to Josh's brother Jason, so even though she does see Josh at family events, she hasn't spent a lot of time with him. That is about to change!
When Josh comes to the rescue, the last one either of them expects is a night of hot passion…and a surprise for Josh! Josh completely panics. Caroline isn't the type of woman he usually spends time with, but there's something about her that pulls at Josh. Josh doesn't want to settle down and Caroline wants experience for her life and for her secret romance writing. When she propositions Josh with a friends with benefits arrangement, Josh is not sure he can deal with that. They will see each other with family and through work…can they have more without making things awkward? Josh doesn't have relationships, and Caroline seems like the kind of lady who needs one.
Before they know it, they have a friendship neither of them wants to let go…can they have more?
Unexpectedly Yours by Jeannie Moon is a fun, sweet romance. I loved Josh and Caroline and couldn't wait to see where things would go for them. Caroline is a smart, independent woman who is struggling to prove to her family that she is an adult now, and that they are not in charge of her. She is much more independent and grown up than they give her credit for. Her relationship with Josh is one she's chosen however it turns out, and the friendship she has with him gives her the confidence to finally stand up for herself at work and in her personal life. She seemed a little old to me to finally be reaching this point in her life, but I was glad she did! For so long she's been doing what's expected of her instead of what she really wants. Her socially awkward behavior was at times hilarious and knowing people like this, very true to life!
I loved how Josh accepted Caroline for who she was, he wasn't going to try and change her. Josh is a hero you will come to love. He tries to do the right thing, there are all sorts of family issues involved, and when he has to make choices he does not rush into things…he still wants right to prevail. I felt like he was the perfect man for Caroline, if he could just listen to his heart.
Caroline and Josh's story is somewhat complicated because of all the family dynamics and their history, but Jeannie gives us enough background through out Unexpectedly Yours that it can easily be read as a stand alone book without reading the first one. I am not the type of reader to go backwards in a series, but I am looking forward to reading what Jeannie brings us next.
I'd recommend Unexpectedly Yours to any romance reader looking for a smoothly written, fast paced, fun romance with some family complications to get through!
Book Info:

Published November 19th 2013 by Intermix
It was a win-win arrangement…until Caroline lost her heart…
Caroline Rossi needs to reinvent her life. Being a geotechnical engineer hasn't exactly proved to be a guy magnet. She's never really had the opportunity to let her hair down and have fun. But when a chance encounter with her big sister's brother-in-law—millionaire Josh Campbell—leads to a night of unexpected passion, Caroline starts engineering an arrangement that will give them both what they want. She can help Josh with an important real estate project and he can school her in the art of amour. At first Josh balks—but there's something irresistible about Caroline, something very different from the bombshells he usually dates. Can the friends with benefits agreement really work? Or are Caroline and Josh playing a dangerous game that may end in heartbreak?