Unlocking the Doctor's Secrets by Carol Marinelli captures a new romance perfectly and then when you're starting to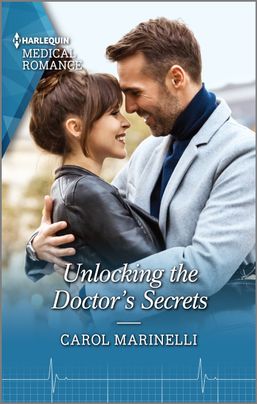 wonder where it will unravel, boom! And Carol Marinelli does what she does best – she starts gripping your heart with intense emotion.
Lina, a nurse/paramedic and ER Dr Garth act on their attraction early on. Fun and flirty Lina's over the moon but in the moonlight when memories come crashing back to her about how she knows Garth, she's fraught with a million emotions running through her mind. How to break it to him?
Carol Marinelli has written such a solid medical romance. I feel I've only read her Presents. The medical drama is great and I very much felt like I was right there in the hospital with the medics. I love Carol for the drama and emotion she captures but this one was next level! I was shocked at how they knew each other and I thought the detail was incredibly scribed. Wrapped up with a heart-warming ending I really enjoyed Unlocking Her Doctor's Secrets.
Recommended to any Carol Marinelli lovers who perhaps haven't tried the medical genre before.
And how great is the cover?
Book Info:

Publication: September 2021 | Harlequin Medical Romance |
Paramedic Lina Edwards feels instant sparks with deliciously brooding consultant Garth Hughes—only, she's learned not to trust her instincts. Yet Garth makes her feel seen in a way she's never been before. The sadness in his eyes shows he has secrets, but when Lina discovers that, shockingly, she's bound up in his past, she must decide: Is their passionate connection too good to be true, or too good to let go?