Unmasking the Secret Prince by Rebecca Winters: Prince Alexandros was whisked into hiding by a close family aide after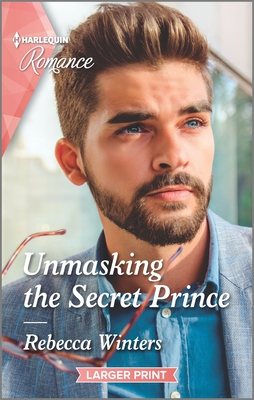 his parents were murdered and others took over Hellenia. He became Philip Dimas dyeing his hair a lighter color and wearing colored contac lenses. Most people thought the prince had been killed after his parents, but some enemies were still looking for him after many years. As Philip, he gains a reputation as a stellar journalist.
Several years go he ran into Giannina Angelis who had become a newspaper editor. He remembered her from their younger days before things went so wrong. She doesn't recognize him, but falls in love with his Philip identity. Philip suddenly leaves her with no explanation because of fears for her safety.
Things are finally looking up and Prince Alexandros may finally be able to reclaim his kingdom. The biggest question is whether Giannina will be able to accept him when he is no longer Philip and feel betrayed?
The exotic locations worked well for this story with the language of the area worked in. I learned that I will never eat black risotto.
The characters both had to deal with situations out of their control and were brave. I would have liked to have known a little more of Giannina's background. Philip/Alex was fairly well defined.
The book did not come up to the mark set by The Greek's Secret Heir, the first in the duet by Rebecca Winters. The plot and pace were bogged down by way too much repetition of the same details.
I will give the author's future books another chance and wish her luck in her continued endeavors.
QOTD: What exotic food have you eaten in the past?
Book Info:

Publication: April 13, 2021 | Harlequin Romance | Secrets of a Billionaire #2
A prince in hiding…
…a love exposed!
Since the day Prince Alexandros's parents were usurped, his royal identity has been a fiercely guarded secret. So, when he fell in love with beautiful Giannina Angelis five years ago, he had no choice but to leave…without so much as an explanation. Now, with the chance to reclaim his rightful kingdom, he's back—and ready to reclaim Giannina's heart!
A Secrets of a Billionaire novel
Secrets of a Billionaire duet
Book 1 – The Greek's Secret Heir
Book 2 – Unmasking the Secret Prince