Hummingbird Lane by Carolyn Brown: Hold on to your heartstrings. Author Carolyn Brown has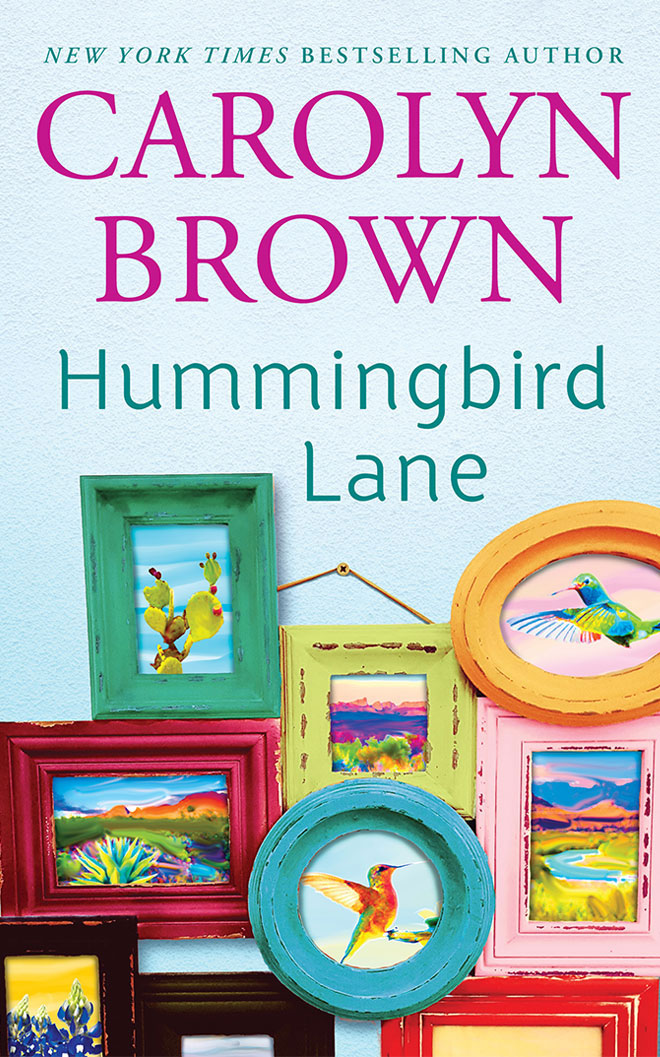 another heartwarming, deeply emotional treat in store for her readers.
Sophia Mason and Emma Merrill were best friends growing up even though they came much different backgrounds. Emma lived in a mansion, the mansion where Sophia's mother, Rebel, had been hired as the cleaning lady. Different stations in life made no difference to Sophie and Emma. They loved spending time together when Rebel brought Sophia along on house-cleaning days. They both had a love of art and dreamed of one day being renowned artists. Emma's mother, Victoria, is a cold, controlling, manipulative woman who has mico-managed Emma's life and even told her that she never wanted Emma. Victoria very much did not approve of Emma's friendship with Sophia. Victoria fired Rebel and sequestered Emma at home being tutored and ended all communication between the two best friends.
Many years later the two best friends finally reunited. Sophia had been leading a good life. Her paintings were very well received in the art world. When Sophia was told by her mother that Emma was confined in Oak Lawn Wellness Center due to depression Sophia knew she had to do something. Sophia was distressed upon seeing her friend. A spur of the moment decision lead Sophia to have Emma sign herself out of the institution and off they went to Sophia's retreat location, Hummingbird Trailer Park near Big Bend National Park. It's where Sophia always had great inspiration for her art and she hoped Emma would be inspired to take up her painting again there. And heal from her emotional wounds. What neither one would have guessed was that they both needed healing and that began with being there for each other.
This was a deeply emotional read for me. But, then again, Carolyn Brown always stirs my emotions with her women's fiction stories. In this case two best friends found each other again and gave each other the strength to heal from past wounds and move on to happy lives. I loved these two characters, along with Rebel, Sophia's mother and all the other characters at the trailer park, Josh, Filly, Arty and Sophia's long-time boyfriend Teddy. These characters are all totally genuine people who reached out and touched my heart.
The beginning of this story was so very powerful. It made me ache with sympathy for Emma and later that sympathy extended to Sophia. I just wanted to wrap Emma and Sophia up in a big group hug and make everything better for them. I loved how Carolyn Brown brought them both peace and happiness.
QOTD: Can a best friend make a difference in your life?
Book Info:

Publication: April 6th 2021 | Montlake | N/A
The healing powers of art and friendship work together in this inspiring and heartwarming novel by New York Times bestselling author Carolyn Brown.
Ever since childhood, Emma Merrill and Sophia Mason were bound by a passion for painting. Like all young best friends, they promised to never lose touch. But the girls came from different worlds, and their paths diverged when Emma went to an elite college and Sophie worked her way through state school.
After a decade they've reconnected, both in a time of need. Emma has been struggling with depression since her college years, and she's lost herself under the suffocating influence of her controlling and manipulative mother. Sophie, under pressure to prepare for an upcoming gallery show, whisks the fragile Emma away to a small artists' colony in south Texas. It's a raw and beautiful landscape where wildflowers bloom—and perhaps Emma can bloom there, too. In the company of such nurturing and creative strangers—especially Josh Corlen, the openhearted manager of the commune—Emma allows herself to breathe again.
For Sophie and Emma, it's the perfect place for reflection and to finally share the secret burdens each has carried. Most of all it's a chance to rediscover their true selves and to make good on the old promise that their friendship would last forever.