In Unraveled (Elemental Assassin #15) by Jennifer Estep, Trouble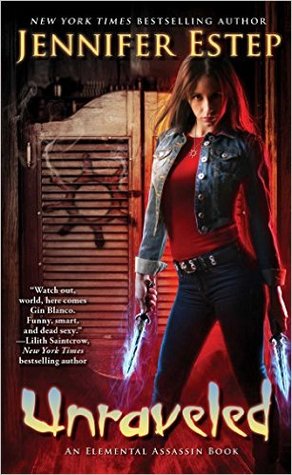 certainly follows assassin Gin Blanco and her group of friends everywhere they go. That includes on their vacation to Bullet Pointe, the Old West theme park that her foster brother Finn Lane suddenly inherits. As a group they don't really have the best track record with vacations, but a girl can hope that this time it will be different, right? Evidently not, as they find themselves having to constantly look over their shoulders, being watched closely by all of the park's employees.
"Do you remember what happened the last time we went on vacation?"
He winced, thinking about our time in Blue Marsh.
"…Forgive me if I am not eager to go on another vacation. To me, vacation just means extreme danger in a different place."
Gin is also on the hunt for the truth regarding a group of people she hadn't known existed until recently who call themselves The Circle. She's already found out who a couple of the key players are but she needs to figure out more details before they throw her off her perch as the Queen of Ashland's underworld. But Gin's search for answers puts Finn, Owen and Bria in harm's way at the hands of a lady sharpshooter and her cronies. So it's up to Gin to rescue her loved ones and defeat the enemy, regardless of the cost to herself.
'I wanted–needed–to know that Finn, Bria, and Owen were safe. Nothing else mattered. Not even whether I lived or died here tonight.'
Gin and her loyal cohorts were under fire again in Unraveled. This time the action took place in an Old West theme park, so you can just imagine the cowboy humor, high noon showdowns, and interesting predicaments they all got themselves into while chasing after the bad guys. Okay, well, Gin is an assassin so I guess it would be *badder* guys. 😉
Who knew smashing together elements of cowboy & Western stories and urban fantasy would be so entertaining? I love Gin, Owen, Finn, Bria and the rest of their quirky group anyway, but seeing them on a supposed vacation, with the guys acting like little kids over all the Western garb and the women rolling their eyes over the guys' antics was a lot of fun. Of course their attempt at a vacation couldn't go as planned and that's where all the drama and nicely detailed action scenes came in. That's one of the things I love about Jennifer Estep's writing. She's not afraid to make the fight scenes gritty, gory and (sometimes) realistic enough to make you cringe. The darker parts of Gin's work isn't glossed over or prettied up. But it makes her who she is so I appreciate that honesty in Estep's books.
There have been a lot of changes and revelations in the past couple of novels, so this found Gin and her core group of friends trying to come to terms with where things stood for them. It was nice to see Finn slowly getting back to his charming, witty self again after his tragic tangling with Mamma Dee. And we got to learn even more about The Circle: who some of the members were, and what that meant for Gin. There were some poignant flashback scenes, done as dreams, she had to deal with and it shed light on her mother and things in her own past that she had forgotten. I loved getting to see those snippets from Gin's childhood, before life made her cynical and the trained badass assassin she's now known as.
Grown men finding their inner cowboys, a woman who took sharpshooting to a whole new level, and Gin at her sneaky, lethal best–that and more is what made Unraveled a wild and exciting read that kept me glued to the pages. Definitely recommended.
Book Info:

Publication: August 30th 2016 | by Pocket Books | Elemental Assassin #15
After the shocking revelations of the previous book, Bitter Bite, the world of Ashland's become even more sinister, and Gin Blanco (aka Ashland's most fearsome assassin, the Spider) no longer knows who—or what—she can count on. Only one thing is for certain: danger and new enemies await Gin in Unraveled.
What could go wrong when you're trying to unravel a decades-old conspiracy?
As the current queen of the Ashland underworld, you would think that I, Gin Blanco, would know all about some secret society controlling things from behind the scenes. I might be the Spider, the city's most fearsome assassin, but all my Ice and Stone elemental magic hasn't done me a lick of good in learning more about "the Circle". Despite my continued investigations, the trail's gone as cold as the coming winter.
So when Finnegan Lane, my foster brother, gets word of a surprising inheritance, we figure why not skip town for someplace less dangerous for a few days? That place: Bullet Pointe, a fancy hotel resort complex plus Old West theme park that Finn now owns lock, stock, and barrel. At first, all the struttin' cowboys and sassy saloon girls are just hokey fun. But add in some shady coincidences and Circle assassins lurking all around, and vacationing becomes wilder—and deadlier—than any of us expected.
Good thing this assassin brought plenty of knives to the gunfight …