In Random Acts of Marriage (Wedding Favors) by Boone Brux, if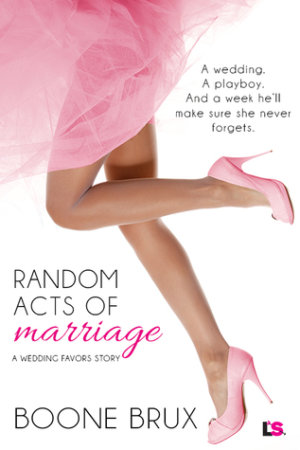 there's one thing Kinni Corbet doesn't know how to do it's 'relax and have fun'. However, when the bride-to-be proposes that she do just that, Kinni finds herself in a bind until she makes a wager with playboy Price Lyons.
She propped on elbow on the bar and leaned toward him a fraction, her interest clearly aroused. "What kind of wager?"
"I bet they hook up sometime during the wedding week, and you think they won't, right?"
"Correct. And what does the winner get?"
"Let's say a favor from the loser, within reason." Making the prize generic gave him a little leeway on options depending on how their relationship progressed over the week.=
Although I haven't read the first book of this series, I found this book could easily be read as a stand-alone. Right from the beginning, this book was riveting, fast-paced and one I could not get enough of once the hero was introduced. He's good for the heroine because she's quite intense and a little bit of a perfectionist when it comes to what she's doing for her friend's wedding. So, it's no wonder the bride-to-be has asked such a request of the heroine.
As for the dialogue, it was intense due to the main characters back stories, especially that of the heroine. She's trying to overcome her upbringing because she wants to make something of herself after all the teasing she suffered from other kids because of her home situation. Furthermore, there's the fact that the hero and heroine have known each other for years now, yet Kinni has never given Price a chance. How Price broke down the walls wrapped around Kinni made for interesting reading, because she needed someone that could get her to relax and have fun.
="For me, situations are usually black or white. My relationships, too. They're either good or bad."
"That makes it a little tough for us regular mortals."
"I know." The rain had sunk through her shirt and was now starting to chill her skin. "I'm trying to be more open to the possibility that if something doesn't work out one way, it could work out another."
I really liked both the main characters, as well as the secondary ones. Price absolutely charmed me. He's confident and determined to win Kinni over, because he's been fascinated by her for a while and she's never been particularly receptive to his charm. Also, he's done very well for himself in accomplishing so much in business and proves to Kinni that he didn't always have it so easy like she believes. That indeed, there a lot more alike than she even realizes.
While Kinni, she is rather intense but there's so much to like about her. I liked how she isn't afraid to express her opinion to Price in the way she teases him about his looks. I also liked that she finally realized she wasn't a freak like other children led her to believe from the talk she has with her mother towards the end of this story. It helps Kinni a lot and proves that she shouldn't allow the hurts of her past to stop her from being with Price.
Overall, this author has penned a wonderful novel where the sex scenes were hot and illustrated this couple's intense chemistry perfectly. The way this story ended had me smiling, despite the fact that Kinni overreacted – at least a little – when it came to what Price did for her concerning her career. Luckily, Kinni didn't need to grovel to Price as much as I thought she would. I would recommend Random Acts of Marriage, if you enjoy the friends to lovers trope.
Book Info:

Publication: August 8th, 2016 | Entangled Publishing | Wedding Favors #2
Kinni Corbet is the perfect bridesmaid. She's efficient and has a to-do list for every occasion. When the bride-to-be adds "relax and have some fun" to Kinni's schedule, Price Lyons seems to tick all the right boxes. He's guaranteed fun, and it's only for one week—what can it hurt?
Playboy hotel owner Price Lyons has wanted to break down Kinni's walls for years. Her plan to relax for a whole week is the perfect opportunity to get to the one person he's never been able to charm. And this time, she seems…receptive to his advances. Unexpected, but he'll take it.
There's just one problem. Kinni's allergic to spontaneity, and the only thing predictable about Price is his unpredictably. There's no way they'll last beyond the week, and Kinni's going to make sure of it…