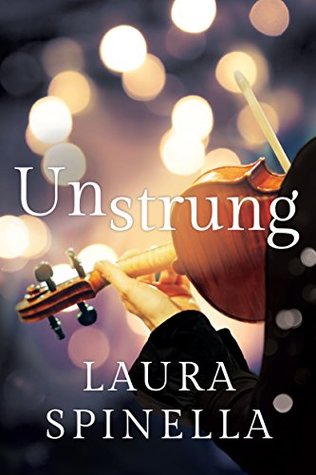 Unstrung by Laura Spinella has many components to it. This contemporary/women's fiction novel, highlights one woman's struggle and/or destruction in her current life. Wondering if she made better choices earlier on, could her life have gone differently? The choices we make shape us into who we are and while you are reading, you might reflect on your own past and the choices you've made. Just remember…you are never too old to grow as a person, and the characters in Unstrung prove this.
We are first introduced to Olivia Klein while she's in court, facing charges for disturbing the peace, destruction of property, and resisting arrest. When Olivia found out her husband used her home as collateral, she went off. She took a baseball bat to his Porsche. In the heat of the moment, we all do things we aren't proud of, but for Olivia, her actions result in serving community service. A hundred hours of community service, to be precise. But those hours are very informative and Olivia will gain something from them.
There is no doubt that Olivia is a gifted musician, but because of her parent's expectations, that gift was more like a curse. Her relationship with music is no longer a positive one and her life isn't what she thought it would be.
"It's not the music that soothes me, more the drowning of memories. Like a deep ocean, it swallows all disappointments—the ones connected to my father, and others that are not. I close my eyes and the past sinks to the bottom, where it belongs."
Olivia is a very complex character and at times, I found her difficult, but as the author delves deeper into her story, my assumption of her changes. There are many secondary characters that make this story what it is. Olivia's friends, husband, ex-husband, family, etc are all a part of her journey. We learn about how Olivia's first marriage turned out and when her ex-husband comes back into her life to make amends, readers will anxiously wait for how it all plays out. Will Olivia rekindle the spark with her ex-husband or will she work on saving her marriage?
I really enjoyed how the author made the main characters older. They are not teenagers or young adults. Olivia is forty six and at that age, she still had a journey in front of her; her life wasn't perfect. Unstrung is filled with realistic emotions and will make readers ponder their own lives. Regrets, secrets, forgiveness…these are only a few feelings that the author wonderfully weaves throughout the story. Unstrung is categorized under contemporary fiction and romance, but for me, it fit better under women's fiction. It's still a recommended read, no matter the category!

Book Info:

 February 21st 2017 | Montlake Romance |
Even as a violin prodigy, Olivia Klein courted trouble. But when her marriage to high-stakes investor Rob Van Doren takes another wrong turn, Olivia acts out once too often. A night of bad behavior results in community service hours. Time is to be served with Theo McAdams, an inner-city teacher whose passion for music eclipses Olivia's. As she inches toward a better place, life surprises Olivia in the form of her first husband—baseball legend Sam Nash.
Years ago, Olivia fell in love with Sam. Their impulsive marriage imploded with a fateful car crash and harsh parting words. Olivia never expected to see him again. But now Sam is back, and he wants her forgiveness. He also wants to recapture their volatile love affair. Olivia is torn between rekindling romance and saving her marriage. To her surprise, it's the presence of the young music teacher—and the lessons from a reckless past—that may bring harmony to Olivia's off-key life.