Untamed Cowboy by Maisey Yates is the second story in her Gold Valley series, and is a heartwarming and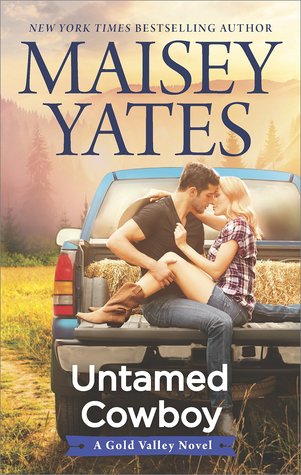 sensual friends to lovers story.
Bennett Dodge and Kaylee Capshaw have been best friends since they were kids. They work together at a veterinarian clinic and spend a fair amount of their free time with each other. Though Kaylee has had a long standing crush on Bennett, she's not been willing to risk their friendship by telling him and has kept it hidden, even when he was on the verge of marrying someone else. But with that engagement off, when Bennett wants to bring Kaylee along as his 'wingman' to get his dating life back on track, she suggests they spend a night together instead.
Bennett has only recently started to notice Kaylee in a new light. She's been his friend for so long that he's always considered her off limits. But now, things aren't so clear. When the sudden appearance of a teenaged son Bennett never knew about rocks his world, it's Kaylee who helps him adjust. There's a lot of change to get used to – will it also start Bennett and Kaylee on the path to more?
I really enjoyed this romance! Bennett's family is a close one, his mother having died during childbirth with his younger sister. As a result the siblings know loss and have all dealt with it in different ways. Bennett copes by always having a plan, and the most recent iteration included getting married and having kids. With his broken engagement and the appearance of his son, his plans have to change. There's a good portion of time spent in developing the relationship between the two of them, as well as the growing confusion of feelings between Kaylee and Bennett.
Kaylee had a tough time growing up and depended on her friendship with Bennett. She still relies on him, though she's been trying hard to keep an emotional distance. That all changes when his engagement is broken and his son shows up. She can identify with his son who has lived in foster homes the last few years. This helps her be a mentor to him, and a go between for father and son.
Kaylee and Bennett share some sexy scenes together as their relationship changes. Their love scenes are imbued with emotion, even as they want to pretend that it's just sex. There are lots of heartfelt moments in the story and introspection for both main characters as they think about what brought them to this place in their lives. It's not an easy road, but they make it to their happy ending. Untamed Cowboy is a really lovely romance and I definitely plan to read more of the series.
Book Info:

Publication: June 19, 2018 | Harlequin | Gold Valley #2
In Gold Valley, Oregon, love might be hiding in plain sight…
Some things are too perfect to mess with. Bennett Dodge's relationship with Kaylee Capshaw is one of them. They work together at their veterinary clinic and have been best friends for years. When Bennett's world is rocked by the appearance of a son he didn't know he had, he needs Kaylee more than ever. And he doesn't want anything else to change. But then Kaylee kisses him, and nothing will ever be the same…
Kaylee's done her best to keep her feelings for the man she's loved since high school hidden away, but one unguarded moment changes everything, and now there's no more denying the chemistry that burns between them. But the explosion of desire changes all the rules, and what's left could destroy their bond—or bring them to a love that's deeper than she ever imagined…