Until Next Time by Claudia Y. Burgoa is the fourth book in the Against All Odds series. I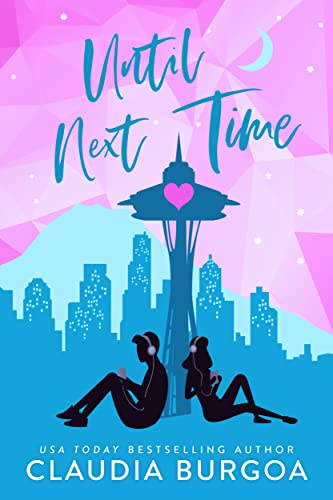 read it as a stand-alone and I had no difficulties keeping up although the connections between all the side characters from previous books were a little confusing. The main characters were likable and Matilda, Autumn's daughter, was so adorable.
This book had it all; humor, family, second chance romance, and was full of emotions.
Autumn Wickerton lost her husband years ago and is raising her seven-year-old daughter, Matilda, by herself. She works three jobs and takes college classes so has no time for dating. She is astonished to learn Matilda sent an email to the Life with Persy podcast requesting help finding the right man for Autumn. Autumn is scared to open her heart again and risk losing another person she loves.
Even though he grew up with parents that were unhappily married Zach St. James still wanted to get married and have children. He married Callie without really knowing her and after their sixth month anniversary, she dies in an accident. After her funeral, Zach meets her family and friendship grows between them. A few years later while at his sister-in-law, Persy's, house he hears Matilda's call requesting help for her mother. He remembers Autumn who was Aiden's, his best friend from grade school, sister. Zach is still heartbroken over his loss, but Autumn gives him hope and together they help each other heal.
The book started out slow and the main characters did not meet again right away. After reading the book I understand the author was letting us see Autumn and Zach's background so we would understand them better. I loved watching Zach and Autumn's slow-burning relationship grow from childhood acquaintances to lovers. They had so much in common were able to help each other with their grief.
Until Next Time by Claudia Y. Burgoa was well written, and I loved meeting all the characters. Matilda was adorable and I laughed so hard at all her mischievousness. I recommend this book and I cannot wait to see what is in store for the St. James family in the next book.
Book Info:

Publication: February 1, 2022 | Independently published | Against All Odds: The St. James Family
What if the person you try to save is the one who saves your heart?
It's official. I'm totally hopeless at love, parenting and life.
Single mom? Check.
Massive debt? Check.
A sassy daughter who inherited my gift of snark?
Ugh. Check.
I work three jobs, go to school, and do my best to be in my kid's life. Men are the last thing on my mind. I wouldn't have time to look at a man even if he fell into my lap.
Until he does. Thanks to my spawn who keeps calling some famous relationship expert, airing my disastrous life in her podcast.
That's when Zach, my brother's best friend in high school appears. I used to have a major crush on him, but I figured he forgot about me.
Zach who tragically lost his wife some time ago, and now, he's looking to save everyone—including me.
A super hot fling with my old flame, with a broken man?
Double check.