Today it is my pleasure to Welcome author
Katee Robert
to HJ!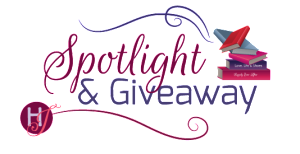 Hi Katee and welcome to HJ! We're so excited to chat with you about your new release, The Dragon's Bride!

Thank you so much for having me!

Please summarize the book for the readers here: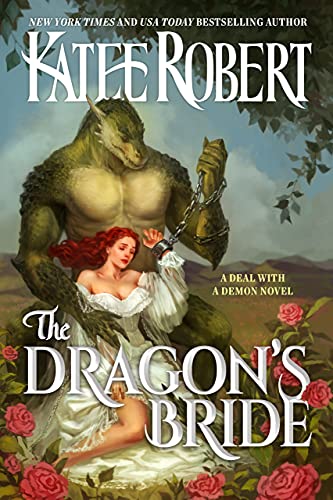 It's a Beauty and the Beast retelling, but with a dragon man who isn't cursed, and a human woman who makes a demon deal to escape a dangerous marriage.

Please share your favorite line(s) or quote from this book:
Most of my people lost the ability to fly centuries ago.
I can't shake the suspicion that I'm setting myself for a brutal landing that will leave me bloody and broken when this is all over.
Please share a few Fun facts about this book…
-Sol, the hero, has two…ah…eggplants.
I fully intended for this book to be intense, but it ended up being pretty freaking sweet.
This series exists, at least in part, because I read Jack Harbon's book His Beauty and went on an epic quest reading a lot of monster romance. It inspired me to write my own!
What first attracts your Hero to the Heroine and vice versa?
The hero is attracted to the heroine because, even though she's had some rough turns in her life, she's still brave and inquisitive and willing to take chances.
The heroine likes how soft the hero is and how intent he is on ensuring she feels safe and secure at all times.
Did any scene have you blushing, crying or laughing while writing it? And Why?
The first thing where things start to heat up between the hero and heroine, I was like 'OH I SEE HOW IT'S GOING TO BE."
"Fine, Briar. Would you like to know how sex would work with us? I'm not interested in splitting you in half, so I'll rip off whatever charming little dress you're wearing with my teeth and then taste you until you're riding my tongue and begging for more. Then, if I'm feeling particularly generous, I'll give you both my cocks, one at a time."
Readers should read this book….
If they like monster romance, high heat, and a whole bunch of shenanigans.
What are you currently working on? What other releases do you have in the works?
I'm currently getting things in place to start drafting the fifth Dark Olympus book. Next up for releases is Wicked Beauty in June, and then another monster romance in October–this time a kraken!

Thanks for blogging at HJ!
Giveaway:

$25 Amazon gift card
To enter Giveaway: Please complete the Rafflecopter form and Post a comment to this Q:

What's your favorite monster?
Excerpt from The Dragon's Bride:
"Come." He moves to the edge of the spring, and I follow a few steps behind. This close, I can see the water is perfectly clear and there are natural steps leading down. Sol motions at them. "We enter separately and emerge as one."
"This is your marriage ceremony?"
It's hard to tell, but I think he's biting back a hiss of frustration. "Yes."
I frown at the spring, waiting for my earlier panic to surge forth. This isn't anything like my last wedding. There's no crowd of friends and family. No carefully curated color scheme. No walking down an aisle to a man I thought was my Prince Charming.
Honestly, it sounds more like a baptism than anything else, but I've never been overly religious, so that's one of the few things about this scenario I don't find triggering.
I can do this.
I nod slowly. "Okay." He starts to move, but I throw up a hand. "Can I go first?" Descending to him might not be close to last time, but I'd rather not risk it.
Sol motions with his clawed and scaled hand. "By all means."
It's not until I'm carefully navigating down the steps that I realize the dress is going to be a problem. The layers of fabric go sheer as they hit the water.
Oh well. We're about to be married and he wants to seduce me into having his children. I'm too tired to care about a little nudity. "This doesn't mean anything."
"It does to me." He hesitates. "But no, this isn't an invitation for anything but the marriage itself."
There's no use arguing. His compromise, if it can be called that, is enough to reassure me. I take a deep breath and finish descending into the spring.
The water is warm and comes to my chest. I don't know why that surprises me. Nothing about this situation has been what I expected, so why should this? I trail my fingers through the water and turn to find Sol watching me.
His expression is too alien for me to read. I think I detect hunger, but is it sexual or violent? He hasn't done anything to harm me, but we've been alone for a less than an hour. Surely he's too smart to break his contract with Azazel so quickly? It took Ethan months before he started encroaching on my confidence, whittling away at me. That old saying about the frog in boiling water has more than a little truth to it. We'd been married three years before he hurt me physically the first time.
Sol moves, jerking my attention back to the present. He descends the steps smoothly, and I can't help examining his body. His chest is very human, broad shoulders descending to well-defined pecs and a solid stomach. I should stop looking there, but curiosity sinks its claws in deep and drags my gaze farther south to where the water licks at his hips, molding his pants to his body. The intent way he watches me sharpens, and the front of his pants shifts.
Look away.
Stop staring.
I don't. I stand there, frozen, and watch his cock harden just from the sight of me, from my attention on him. Except it looks strange and… I blink. "You have two cocks."
"Yes."
My mouth works, but I can't find words. Two. And they look to be in proportion with him, which means they're massive. I don't… What… "Two."
"Briar."
His saying my name for the first time is enough to pull my gaze from his hips and up to his face. Sol makes a hissing sound that seems almost agonized. "You're not making an offer to do more than look."
It's not a question. I have no reason to argue. He's talking like he fully intends to honor Azazel's promises, which boggles my mind. The curiosity coursing through me only gets stronger, but I wrestle it back under control. "Have you been with humans before? Are you even sure it will fit?"
"It will fit," he grinds out.
So he has been with humans before. I frown, but understanding dawns quickly. "Azazel really is clever, isn't he? He gave you a taste before this with others."
"Yes, but this bargain isn't about sex." He stalks past me, keeping a careful distance between us. "Now, stop talking about my cock unless you intend to do something about it."
I snap my mouth shut against a horrifyingly flirty response. This man—this dragon—might be strangely intriguing, but that doesn't mean I'm about to do more than look. Even if I were…
No.
The consequences are too dire. It's not worth it for simple curiosity.
Excerpt. © Reprinted by permission. All rights reserved.


Book Info:
Briar Rose might have a name out of a storybook, but she learned at a very young age that no prince was coming to save her. She'll have to save herself. Unfortunately, even that is an impossible task in her current situation—trapped in a terrifying marriage to a dangerous man.
Desperate times call for desperate measures, which is how she finds herself making a deal with a demon. Freedom from her husband…in return for seven years of service.
She expects the service to be backbreaking and harsh. She doesn't expect to be put on an auction block in a room full of literal monsters and sold to the highest bidder.
To Sol.
A dragon.
He might seem kinder than his fearsome looks imply, but she knows better than to trust the way he wants to take care of her, or how invested he is in her pleasure. In her experience, if something seems too good to be true, it certainly is.
Falling for Sol is out of the question. She's suffered enough, and she has no intention of staying in this realm…even if she leaves her heart behind when she returns to her normal life.
Author's Note: Please check the author's website for all tropes, tags, and CWs.
Book Links: Amazon | B&N | iTunes | kobo | Google |


Meet the Author:
Katee Robert is a New York Times and USA Today bestselling author of contemporary romance and romantic suspense. Entertainment Weekly calls her writing "unspeakably hot." Her books have sold over a million copies. She lives in the Pacific Northwest with her husband, children, a cat who thinks he's a dog, and two Great Danes who think they're lap dogs.
Website | Facebook | Twitter | Instagram | GoodReads |