Unwrapped by Katie Lane: After fleeing her second wedding, Jacqueline finds herself stuck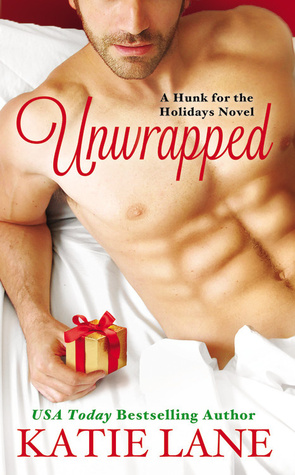 in a random cabin in the middle of a snowstorm along with sexy stranger Patrick, and finds herself submitting to the best night of her life. But once she wakes up, he's gone, and she goes back to her life beyond the cabin.
"Unfortunately, her romantic theory was shot to hell when the man opened his mouth to speak. His lips parted to reveal a set of pearly white teeth with two very long – very sharp – fangs.
'Trick or treat,' he growled."
Only, a surprise pregnancy brings her back into Patrick's life and they have to figure out just how to make it work when Patrick's a confirmed bachelor and Jac needs to find a rich husband to ensure she fulfills her aunt's will.
"'There is something I need to do.' He lifted a hand and smoothed her hair behind her ear, his hot fingers causing her to release a sound that she'd never released before – a cross between a high-pitched sigh and a breathy moan. The sound turned his eye a shade darker as he dipped his head and gave her a thorough kiss that curled her toes in the wool socks. Then, without another word, he walked into the bathroom and closed the door."
Sexy and funny, Unwrapped was a whole lot of enjoyable. Normally not a situation I love, Lane made the flames spark between Patrick and Jac. With a very rocky start, they always had that passion and it helped them through the moments of learning each other and beginning to work with one another to find happiness.
It was a surprisingly funny story. I thought it would be short and sexy, but Lane definitely put in layers to make it far more interesting than I expected. Jac's overactive imagination, such as thinking Patrick's a vampire, especially added a great tone to the story. Although, there was an odd hint of Christmas magic that didn't work for me.
Their friends and family I loved, too. Lane did a great job creating community, and definitely had me wanting to read the others in the series. For any romance reader looking for a fun, sexy romance, I recommend Unwrapped.
Book Info:

Publication: September 29, 2015 | Forever | Hunk for the Holidays #3
Good things come in sexy packages…
Jacqueline Maguire has a problem tying the knot. After fleeing the altar (again), the runaway bride drives off with no particular destination in mind. Which is how Jac finds herself stranded in a snowstorm with a hot, hard-bodied stranger who treats her to the naughtiest night of her life… but come morning, he's long gone.
Contractor Patrick McPherson is deeply committed to his bachelor lifestyle. No strings, no rings. As the Christmas season approaches, however, Patrick still can't quite forget his curvalicious one-night stand. Then Jac shows up unexpectedly, and all holiday hell breaks loose. Because this year, Patrick is getting the biggest Christmas surprise of his life…