Upstairs Downstairs Baby by Cat Schield: Running away doesn't really work, whether it's from people, a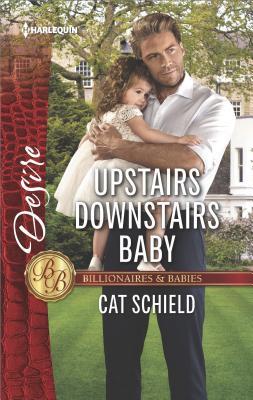 situation or even feelings. Eventually everything and everyone is found out.
Claire Robbins wasn't really sure what she was going to do about the growing feelings for her boss. She did know that she loved her daughter and she was going to do everything she could do to make her feel safe and loved. She was going to keep away from her boss and keep doing her work and just her work, right?
Linc Thurston had been happy, after all he was a pro ball player and up until a couple of months ago he was happily engaged. So what went wrong? Why was he not happy anymore? What was going on in his life and why was he starting to have feelings for his housekeeper? What was going on with his life?
When untruths start unraveling and the past catches up with the present what will become of this budding upstairs/downstairs romance?
Ms. Schield has done an interesting this with the first of this trilogy. It's a new to my story twist and honestly it was completely out of the blue. The only issue I had with it was the quick wrap up. Everything leading up to the twist was fantastic and the twist itself was great, but could have been stretched out a bit more, however the ending was what was questionable. The characters were made to love and you will find yourself wishing the secondary ones gain their own stories. This is something you should totally check out and enjoy a bit of old school charm in a new school world.
Book Info:

Publication: Published April 3rd 2018 | Harlequin Desire |
A boss falling into bed with the help is the ultimate scandal…But he's never been one to resist temptation.Millionaire Linc Thurston is expected to marry well–not take up with his live-in housekeeper. But Claire Robbins is unlike any single mom–any woman–he's ever known. She's beautiful, captivating…and hiding something. Even so, he can't resist bringing her to his bed. But when her betrayals catch up with them both, will their passion hold strong?