Savage Prince is a quick and scorching hot romance by the incredibly talented Meghan March. It is the first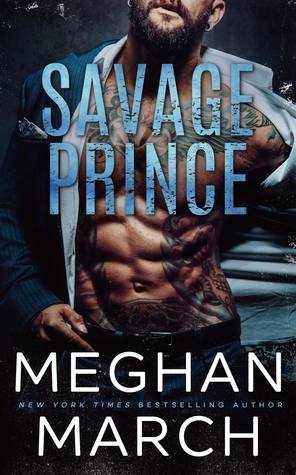 book in the Savage trilogy and has a BIG cliffhanger, but the next book will be out in April and the final installment in May. I would encourage readers not to wait to binge read as some of the fun is the anticipation between books.
I can't say a lot about Savage Prince's plot because I do not want to spoil it, but it is trademark Meghan March. It's evocatively-written with a thrilling, unpredictable plot, a sexy alpha-hero and a strong, kickass heroine. The love scenes are hot, hot, hot, and the protagonists have explosive chemistry that leaps off the page.
My only quibble is that I would have liked to have more development of an emotional connection between Temperance and the hero in this installment of the trilogy.
I think there is definitely a plan and purpose to why there isn't, and I TRUST Meghan March to pull it all together across the three books. I have no doubt that this story will be an additive romantic masterpiece.
Book Info:

Publication: 3/27/18 | self-Published | Savage Trilogy #1
I do what I want and who I want. I don't follow anyone's rules—even my own.
I knew I shouldn't touch her, but it didn't stop me.
Didn't stop me the second time either. Only made me want a third.
My lifestyle suits the savage I am, and she doesn't.
But Temperance Ransom is my newest addiction, and I'm nowhere near ready to quit her yet.
I'll have her my way, even if it means dragging her into the darkness.
Hopefully it doesn't kill us both.