In Home With You by Shirlee McCoy, art history professor Sullivan Bradshaw is spending his sabbatical in a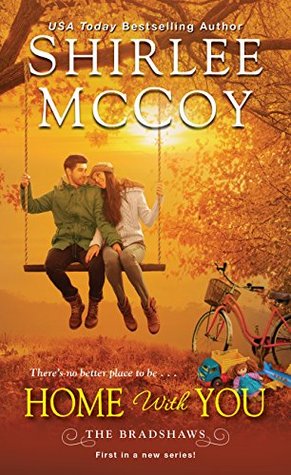 way he never planned–caring for his brother's six children after a tragic accident left Matt dead and his wife, Sunday, in a coma. His other two brothers place an ad for a nanny/housekeeper to help him out since they can't be there full time. Rumer answers the ad, needing the extra income to help pay for her grandmother's medical bills. She quickly questions what she's gotten herself into, but she knows the children and Sullivan need her.
Both Sullivan and Rumer have pasts that cause them to believe they don't want relationships. For Rumer, it's having chosen men who have let her down in the past. For Sullivan, it's the abusive childhood he and his brothers suffered through, which makes him believe he's not father material. He's worried about becoming his father.
I felt for Sullivan. He's thrust into a situation he's not comfortable with, and it's clear he doesn't know how to handle the children. He's trying his best but struggling, which is why his brother's placed the add. He's also left by himself to make difficult medical decisions about Sunday by himself.
This book really tugs at the heartstrings, especially in regards to the children. All of them are adopted. While most of their backgrounds aren't revealed, it's clear they've all had bad childhoods before being adopted by Sunday and Matt. Heavenly, the oldest but the last to be adopted by the Bradshaw's, comes across as the one with the worst attitude. It becomes clear, however, that she's the most vulnerable. She tries to tell everyone that her siblings aren't her family, and she refuses to call Sullivan uncle like the other children do. Out of all the children, I felt the worst for her because she really wanted to be a part of the family but was afraid to let herself get attached.
"In all my life, I've never known one person who hasn't left. I've never known one person who's kept a promise, either."
"You've only been alive for thirteen years, so maybe your experience is limited."
"From where I'm sitting, thirteen years seems like a very long time."
This book focuses more on the children and Sunday's situation than the romance, so if you're looking for a straight up romance, this is not it. If you're looking for an emotional story about overcoming tragedy, look no further. Home With You is well-written with sympathetic characters and a realistic storyline. I'm looking forward to reading about the other Bradshaw brothers and, hopefully, more about the family as they continue to heal.

Book Info:

Publication: February 27, 2018 | Zebra | The Bradshaws #1
Sullivan Bradshaw is in way over his head. A car crash killed his brother, Matthias, and critically injured his sister-in-law. It's Sullivan's turn to care for the couple's six children and the ancestral farm, but the die-hard bachelor and art professor is hardly family-man material. What he needs is the perfect nanny-miracle worker-saint. What he gets is pretty Rumer Truehart, a free spirit who will change everything he ever thought he wanted . . .
Rumer learned the hard way that nothing is for sure, much less forever. And she certainly understands why Sullivan's unhappy childhood makes him a strictly no-commitments kind of guy. But she can't help being drawn to this thoughtful, gentle man. And when trouble strikes, she's determined to win his trust—and show him love can be a promise for keeps.