In Vampire's Faith by Rebecca Zanetti, Ronan had agreed to be trapped in another dimension,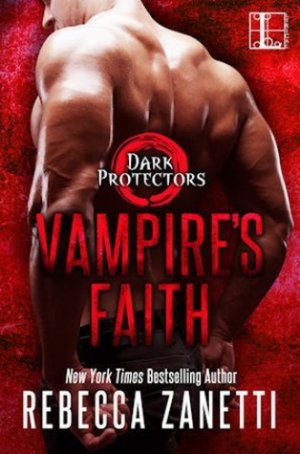 acting as a prison guard for the evil Ulric along with his brother . For centuries he has dreamed of one woman, his mate. So when the wards unexpectedly fail and he finds himself back on earth, the first person he sees is Faith, the woman haunting his dreams. Faith initially believes Ronan was a coma patient who lost his mind when he woke up. Vampires? He's crazy. But when they get attacked and Ronan kidnaps her to protect her, she sees things she can't explain and begins to think he might not be crazy after all.
This book sets up a new threat that's coming to the world along with a unknown group of Vampires known as the Seven who are dedicated to stopping it. Ronan is part of the mysterious Seven. Short two members after his brothers died, Ronan and his group recruit Logan and Garrett. While there aren't many appearances from characters from the previous books, Garrett is one of them. Also making an appearance is Janie's young daughter, Hope, the first female vampire prophesized to play a big role in the future. Like her mother, Hope has the ability to enter other dimensions where she meets up with a boy who she considers her friend, but others consider to be an enemy. It will be interesting to see if the pair ends up like her mother and father did. I'm also looking forward to seeing if and how the Seven will interact with the vampires of the Realm.
I loved Faith and Ronan together. He's protective of her from the moment he opens his eyes. It takes her a little longer to warm up to him but once she decides to believe him, she's all in. It was entertaining to watch Ronan try to learn and understand things from the 21st century, including his conversations with Siri and understanding how a car works. I would have liked to have seen Ronan meet his great great nephews, the Karys brothers, which didn't happen. Hopefully he'll get to meet his brother's descendants in future books.
The Dark Protectors series is one of my favorites and I'm absolutely thrilled that Rebecca Zanetti is bringing it back. If you haven't read the previous books in the series, it's ok to read this as a stand alone since it's the beginning of a new storyline and only a couple of characters from the previous books make appearances. If you enjoy paranaormal books, espeically about vampires, then this one would be for you.
Book Info:

Publication: June 19, 2018 | Lyrical Press | Dark Protectors #8
Vampire King Ronan Kayrs wasn't supposed to survive the savage sacrifice he willingly endured to rid the world of the ultimate evil. He wasn't supposed to emerge in this time and place, and he sure as hell wasn't supposed to finally touch the woman who's haunted his dreams for centuries. Yet here he is, in an era where vampires are hidden, the enemy has grown stronger, and his mate has no idea of the power she holds.
Dr. Faith Cooper is flummoxed by irrefutable proof that not only do vampires exist . . . they're hot blooded, able to walk in sunlight, and shockingly sexy. Faith has always depended on science, but the restlessness she feels around this predatory male defies reason. Especially when it grows into a hunger only he can satisfy—that is if they can survive the evil hunting them both.