Vanilla by Megan Hart: Elise knows who she is and what she wants and she isn't afraid to ask for it. But ever since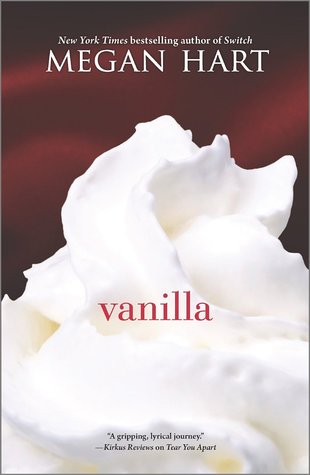 her last relationship ended, she's only wanted to have arrangements with men who have compatible desires. By day, Elise helps Alex run his financial management company and in her free time she's a model for a variety of photo shoots and babysitting her nephew. While attending one of the showings for one of her kinky modeling sessions, she meets Niall. Niall works with her brother and they seem to have an instant connection.
Since Niall was at the showing, he is aware that Elise has certain preferences, but he's still intrigued by her. Elise and Niall have other interests in common and he really seems to understand her. Unlike other guys, he really seems to pay attention, listen, and remember.
"Uh-oh. That's never a good thing," Niall said mocksolemnly. "When a woman says she wants to be surprised, it's usually a test."
"Let's see if you pass it, then."
As they become closer, Elise finds herself in a relationship. They have great chemistry, but they are also friends. The question becomes if Niall can deal with Elise's past and if they can find a mutually satisfying compromise between vanilla and dominance.
"You can't possibly. If you'd ever listened to me, all along, you'd know. But I don't think you've listened, Niall, because it's obvious you believe there's only one way for me to be, and it's something you don't want. Did it ever occur to you that there's more to me than any one thing?"
Vanilla is an intriguing story where the heroine prefers to dominate men and the hero is used to being on top. Elise is very much a multidimensional character and not a stereotypical domme. Megan Hart yet again brings main and secondary characters who seem very real with their complexity and imperfections.
Ms. Hart also includes characters from previous books as secondary characters, such as Alex Kennedy. Fans of Maya Banks would enjoy Vanilla.
Book Info:

Publication: February 24th 2015 by Mira
It's an acquired taste…he just has to acquire it
Elise knows what she wants in the bedroom, and she makes sure she gets it. Her thirst for domination has long been quenched by a stable of men only too happy to bow down before her.
But sexual satisfaction isn't the same as love, and she's been burned in the past by giving her heart too freely.
Niall is handsome, smart, successful and sweet—sweet as vanilla. When they meet, their romantic connection is electric, even though he's way on the opposite end of the kink spectrum. Despite how she fights it, Elise falls for him—but how can a relationship work when both lovers want to be on top?