Vegas Wedding to Forever by Sophie Pembroke: Toby went with his best friend and business partner Finn for one last hurrah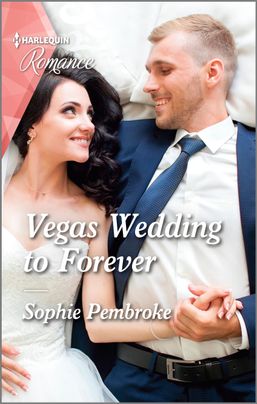 before he returned to England to assume his position and responsibilities as the Viscount of Wishcliffe. Unfortunately, Toby imbibed way too much, blacked out and the next morning finds out he has married the beautiful woman in his bed. This woman is Autumn who was working at the casino, but has now been fired, thanks to Toby's shenanigans. This is not all bad. Toby talks Autumn into coming back to England with him. She is his wife and can help him with some of the duties at the estate.
He has lost his brother who was the viscount and his sister-in-law has been handling things while he ties up things with his own personal business. He assures Autumn that their marriage can be one in name only and it won't be for more than about three months. Toby has plans to sell Wishcliffe as soon as he can find a buyer who will take care of the people who work for the estate and the village that plays an important part.
Autumn becomes close to the people who work at Wishcliffe faster than Toby does. She has that special knack for making people feel special and appreciated. At the same time, she is afraid to get too attached to Toby. Toby tries to play by Autumn's rule of no intimacy, but it's so hard to resist her beauty and kindness.
The author develops both main characters well and their story arc shows growth. I was most drawn to Autumn. It's easy to understand why she is afraid to feel too much for Toby. Her past has continually compounded the idea that if you love too deeply it will only leave you heartbroken and nothing lasts forever.
Toby has his own issues about not measuring up to his late father or brother. He is a kind man and a loyal friend, but still has doubts about his ability to stick with something and not develop wanderlust.
I could envision the setting in England. It sounded lovely and traditional without being overwhelming.
I have read several of author Sophie Pembroke's novels and enjoyed each one on it own merits. I am excited to see that Vegas Wedding to Forever is just the first in a trilogy. I look forward to reading Finn's tale soon.
Book Info:

Publication: December 28, 2021 | Harlequin Romance | The Heirs to Wishcliffe #1
Accidental 'I Do'
To meant-to-be?
Free-spirited Autumn is used to living life on the wild side but she never planned on waking up married in Vegas! When the memories of the previous night with her new husband Toby flood back, she realises she's in quite the situation… especially when he needs her help by keeping up the façade temporarily. While her husband is hard to read, one thing is clear, their chemistry is anything but fake!