The Paid Bridesmaid by Sariah Wilson: Always the bridesmaid never the bride, for most this common saying would be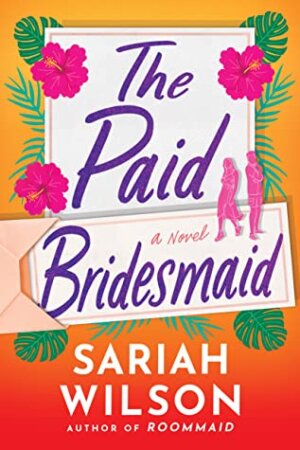 followed by a twinge of heartache but this isn't necessarily the case with Rachel Vinson. You see Rachel is a professional bridesmaid, with her thriving business about to break into a whole new level of potential all Rachel has to do is pull of a drama free weeklong wedding celebration in Hawaii for Instagram influencer Sadie and her soon to be husband. A week away in the tropical paradise should be a piece of cake right? Except Rachel did not factor in annoyingly good looking but nosey best man Camden Lewis.
"Despite what I'd told Camden, the sexual tension between us was so thick that even a machete couldn't have cut it."
This book has to be the absolute best way to start of my reading list of 2022! Im a huge fan of these type of romcoms and I'm so thrilled to see more books following the bridesmaid trope, not only was this book hilariously funny but I absolutely loved the back and forth flirty banter that was present thought this read. Willson is fast becoming one of my favourite authors, I absolutely love that all of her books are such fun, light reads that always leave you feeling warm and fuzzy.
"There was no questioning the scorching chemistry between us. I was desperate for him, and the way he shuddered against me made me think he felt exactly the same."
Rachel was hands down one of the best female characters that I have read, I loved that she genuinely wanted the best for her brides and that she went above and beyond to help make their special day completely magical. Not only was she a kick butt bridesmaid, but I really liked that she was all about women empowerment and helping other ladies have a second chance. I really liked getting to see her work relationship with Sadie develop into a real friendship, most of all I loved that Sadie was the one that wanted to push Rachel and Camden together.
"We were like two asteroids colliding into each other. Slamming with full force, debris flying everywhere, cores melding into one another. There was intense velocity and a shock wave as his mouth devoured mine, and I feared that in the aftermath there wouldn't be any part of me left. I'd just be tiny pieces of rubble all over the floor because his kiss was utterly destroying me."
Camden was just the cutest, I loved this guy even when he was convinced that Rachel was a corporate spy. He was the perfect hero; kind, thoughtful, caring and a down right flirt. I really enjoyed watching him try to charm Rachel while trying to figure out what she was up to. Together these two were absolute fire, I loved their chemistry and the way they just kind of clicked. It was such a treat getting to see them getting up to so much mischief even with Rachel desperately trying to keep things professional. I loved that Rachels mother was completely team Camden without even meeting him, this only added to the epilogue bit!
The Paid Bridesmaid is packed with wedding hijinks, hilarious laugh out loud moments, steamy banter and one heck of a cute romance. I absolutely loved reading this book and would most definitely recommend reading it!
Book Info:

Publication: January 1, 2022 | Montlake |
Rachel Vinson is a bridesmaid for hire: part confidante, part wedding planner, and one hundred percent pretend BFF. Discretion guaranteed. Her next gig is a destination wedding—livestreamed and sponsored—for an Instagram influencer. That means a paradise of new contacts, which could be a boon to her already booming business. If Rachel can keep the very handsome and slightly too interested best man at bay, that is.
High-tech entrepreneur Camden Lewis must know: Who is this gorgeous, intelligent, and mysterious woman? Too good to be real. Convinced she's a corporate spy out to tank his company, Camden's not letting her out of his sight. But the constant surveillance is also opening his eyes to things about Rachel that he likes. If she's a spy, she's certainly the cutest one he's ever seen.
As the week's worth of wedding events march along, Rachel and Camden are learning almost everything there is to know about each other. Rachel's made a career out of always a bridesmaid…but perhaps there's a chance for her own trip down the aisle?