In Vendetta Road (Torpedo Ink #3) by Christine Feehan, As part of the Torpedo Ink motorcycle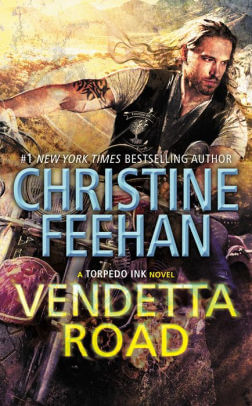 club, Isaak "Ice" Koval lives a very different life than the one he and his club brothers and sisters had back in Russia. After years of torture and abuse they are now turning the tables on abusers, striving to help others–particularly children and women–giving them whatever protection they can offer. So when Ice sees a gorgeous woman suffering at the hands of her so-called fiancé, he'll stop at nothing to help Soleil Brodeur. Even if it means binding their lives together. But once he has a taste of how sweet things could be with Soleil by his side forever, Ice knows he's all in and intends on proving that to his woman in every way possible.
"Baby, you're a fuckin' miracle. I don't know what I did to deserve you, but you have no idea how glad I am that I found you."
The one thing Soleil has longed for in her lonely life is a family. Something she's never had since being orphaned as a child. She might have all the money in the world, but she's had no lasting connection…no one who has loved her unconditionally, ever. So when her relationship with her fiancé, a man who should be treating her with love and respect, turns violent, Soleil runs. Her savior turns out to be a rough, devastatingly handsome biker named Ice who offers her safety. His brothers and sisters in Torpedo Ink all band together to protect Soleil as well–something she's never had before. As she gets closer to Ice, knowing the attraction they share is something special, she begins to wonder if she can start a new life with him and have the man, and family, of her dreams.
She turned to him and framed his face with her hands. "I'm terrified of falling in love with you."
"I'm terrified you won't," he answered.
An unconventional start to a romance mixed with lots of explosive action and suspense turned Vendetta Road into an unforgettable wild ride. But what else would we expect from Christine Feehan, right?
'He thought his heart was encased in ice. He thought his emotions long since frozen, but she was changing everything including his perception of himself.'
Trigger Warning: View Spoiler »Murder, torture, domestic abuse, sexual abuse (including pedophilia), suicidal thoughts, and voyeuristic sex. « Hide Spoiler
I have a feeling that Vendetta Road is one of those Christine Feehan books (like some of her GhostWalkers books) that will not work for some readers. In this case it wasn't the alpha hero, Ice, that was the issue, unlike some of Feehan's other stories. It was that the subject matter touched upon dark subjects like murder as well as the Torpedo Ink crew going after a pedophile ring, plus there was the harrowing childhood Ice and his brothers and sisters in the club somehow survived together. Much of which we got see through Ice's eyes as he remembered his past while explaining it to Soleil.
The other part of Ice and Soleil's journey that might give readers pause–well, two things–is first, how they became a couple. I thought it was rather funny once I figured out what was really going on, but let's just say that Soleil and Ice were both trying to get the other drunk so they could talk the other into marriage. That it was *both* of them with the same idea, and that how they went about it was so similar, I thought it added a bit of entertainment to the storyline. (The other members of Torpedo Ink thought it was a hoot as well…lol)
The other part of Ice and Soleil's relationship that might be iffy to some was that their love scenes were very voyeuristic and frequently in public places. I won't go into detail because it has to do with Ice's past, but there were a *lot* of steamy scenes, some even on the kinky side. But it didn't take away from the true bond that formed between Soleil and Ice. If anything, I think having them explore that side of their nature brought them closer together, showing that they were the perfect match. And they definitely needed that connection with all of the other dangerous things going on in Soleil's personal life and with the investigation Torpedo Ink was in the middle of.
The Torpedo Ink books have been all about survival, redemption, and finding peace. Vendetta Road proves that this honorable MC club–with some admittedly sketchy ways of dealing with the bad guys–is made up of some incredible people who all deserve their chance at lasting love.
Book Info:

Publication: Published January 28th 2020 | Berkley | Torpedo Ink #3
#1 New York Times bestselling author Christine Feehan pushes the limits in her next novel in the Torpedo Ink series.
Isaak "Ice" Koval is on a club mission when he sees a woman who stops him dead in his tracks. Soleil is a sweet, sexy, girl-next-door type. She's an innocent who should be nowhere near the rough-and-ready world of the Torpedo Ink motorcycle club. But Ice knows Soleil belongs with him—and he'll do whatever it takes to keep her.
After a life of drifting from one thing to the next, Soleil Brodeur is determined to take control of her life. When her breakup with her manipulative fiancé turns ugly, Soleil searches out the stranger who offered her a lifeline and ends up in a Las Vegas biker bar where she meets a gorgeous, dangerous man straight out of her most secret fantasies.
High on adrenaline, she finds herself falling faster than she thought possible. But Soleil knows little about the territory she's stumbled into, and even less about what it really means to be Ice's woman.…