Vows They Can't Escape by Heidi Rice: Heidi Rice's new romance sets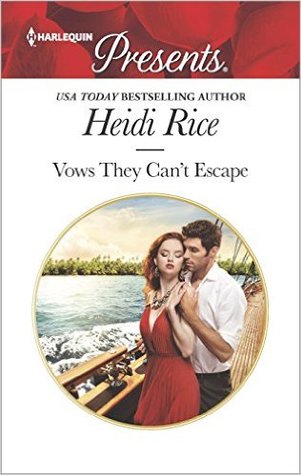 sail on the high seas in this story of second chances. Xanthe Carmichael and Dane Redmond were the proverbial rich girl/poor guy pairing, when Dane came to work for Xanthe's wealthy father as a 19 year old. Drawn to one another, they solidified their relationship when Xanthe turned out to be pregnant, getting married and moving off of her dad's property into a shoddy motel. Worried about providing for his new wife, Dane was off on a fishing trawler when bad luck struck and Xanthe miscarried the baby.
Shuttled back to her father's estate to recover, Dane returned to discover himself served with divorce papers and told by his father-in-law that Xanthe had aborted the child. Hurt and betrayed, Dane vowed never to risk himself emotionally again. At the same time Xanthe believed that it was Dane who abandoned her never to return, not knowing that her father had kept him away from her. Hardened against each other, both turned to their own resilience and inner strength to pull themselves back up and move forward with their lives.
Ten years later, Xanthe's father has since passed away and Xanthe has taken over his company. But there is a catch- when her father wrote his will, he left a majority portion of the shares of the company in the name of Xanthe's yet unnamed husband. And to her shock and dismay, her lawyer finds that her divorce from Dane never went through, and they are still legally married! Xanthe needs Dane to sign those papers and turns up at the ship design firm that he built from scratch after leaving Xanthe. She can't risk him finding out the truth about her inheritance. But when they are back under the same roof again, will they be able to say goodbye a second time?
I really enjoyed this story! The beginning takes place in Manhattan, with Xanthe and Dane finally discovering the truth of what broke them apart all those years ago. I was glad to see that the circumstances surrounding the baby's death were not kept as a thorn in their sides for too long. But there are still secrets between them that drive the second half of the story. The setting for that was definitely of interest to me, with Dane and Xanthe finding themselves on his yacht together cruising to the Bahamas and forced to deal with each other.
I found the heat level of this story to be somewhat higher than previous Harlequin Presents that I've read, with Dane and Xanthe unable to resist each other right from when Xanthe shows up to serve him the divorce papers. They have a hot and cold relationship, but eventually come to the rightful conclusion that they belong together. Learning to trust each other again is the hardest part, but worth the effort. We get a lovely happy ending for this couple (and a sweet and sexy epilogue) and I'll definitely be looking for more from this author!
Book Info:

Publication: Jan 17, 2017 | Harlequin Presents |
Still legally wedded
Xanthe Carmichael has just discovered two things:
1. Her ex-husband could take half of her business.
2. She's actually still married to him!
When she jets off to New York, divorce papers in hand, Xanthe is prepared for the billionaire bad boy's slick office but not for the spear of lust that hits her the moment she sees Dane Redmond again! Has her body no shame, no recollection of the pain he caused? But Dane is stalling Is he really checking the fine print or planning to stir the smoldering embers of their passion and tempt her back into the marriage bed?