Wait for It by M. O'Keefe was a pleasant surprise. I had no idea what to expect from this book,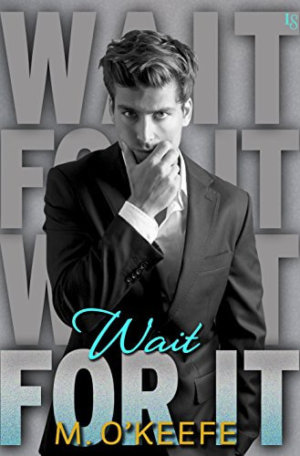 especially since I didn't have the chance to read the first three books in this series. When I first started reading, the darkness of the characters and their situations were front in center, and I didn't know if our characters were capable of a happy ending. Thankfully, this author knows exactly what she's doing, because there is light at the end of the tunnel for these complex characters and it's definitely, worth the wait.
When Blake and Tiffany first meet, things get a little out of control. Blake has just found out that Tiffany has been married to his brother for a while and they have three kids together. He doesn't take this well, and believes the worst of her. He wants nothing to do with his brother and that extends to Tiffany and the kids, so he does what he believes is normal. He controls the situation and offers her money to leave and never show her face to him or his mother.
A year later, Tiffany and Blake cross paths. This time, Tiffany has hit rock bottom. Her husband is out of control and she needs to get away from him. Blake sees a different side of Tiffany, and offers her money and anything else she needs. Blake blames himself for how his brother ended up and is trying to right a wrong, by doing so, he's showing her he has a kinder side to him. The more Tiffany gets to know Blake, the longer she realizes that he's not just a hateful, arrogant man; there are layers to him. Once Tiffany understands this, their situation becomes so much more.
I loved Tiffany as our heroine. She has a backbone and after everything she's been through, she's still not broken. Sure, she might have to swallow her pride a little, but that's what any mother would do in her situation. As for Blake, he takes a little bit to warm up to, but once he does, oh man….
The relationship between our characters develops slowly, but that's exactly what needed to happen. Everything they did felt real and their relationship didn't feel forced…it was meant to happen. Wait for It, is well-written, highly enjoyable, and definitely a keeper!

Book Info:

Publication: February 28th 2017 | Loveswept | Everything I Left Unsaid #4
In a blistering novel of raw emotion and desire, a tormented woman teaches an alpha male that money can't fix everything . . . but love can.
Tiffany : After fighting for a new life, I don't want to play the victim anymore. However, with three kids to raise, I'm getting desperate enough to make a deal with the devil. My estranged brother-in-law, Blake, says he just wants to help, but he's been trouble since I met him. I don't know if I can believe this kinder, gentler Blake, and there's a friction between us that has turned into the sweetest chemistry. He could be my salvation . . . or my downfall.
Blake : I haven't always had Tiffany's best interests at heart but I'm ready to make up for my sins. Besides, I can't help admiring her: The girl's a genuine survivor, tough and lean, with eyes of steel. But the more I get to know Tiffany, the more I want her. Every inch of her. Which means I'm about to make a bad situation a hell of a lot worse.