Unveiling the Bridesmaid by Jessica Gilmore: Can two weeks make up for 9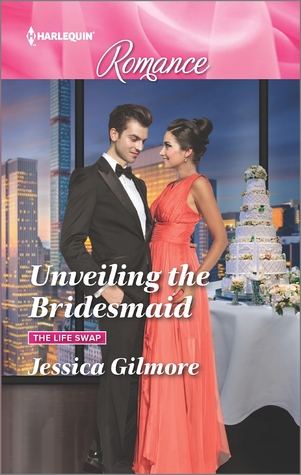 years? Can someone let go of all of the anxiety of a lifetime in one night?
Hope McKenzie knew her life had radically changed 9 years ago and that she would spend the rest of her life trying to make it up to her sister Faith. She didn't realize what that would really mean or what she would do when Faith was finally grown up, but when she gets a call that her sister was going to get married she knew she was going to need to find out and quickly.
Gael O'Connor had lived his life on the outside. He would live on fringe, taking photos and telling the stories that no one else was ready to tell. Once upon a time he believed in love even, then it happened and just like that he was back on the outside. The fringe of society making sure that everyone saw what no one wanted to. There was nothing left, nothing to believe in.
When Hope and Gael meet in VERY unusual circumstances they know they will never have a "normal" relationship. The question then becomes, what kind if any relationship will they actually have?
This is a very sweet novel. Ms. Gilmore digs into some issues that many people would like to just let be. Her prose elevates situations that could be considered to raw into a place of hurt but then healing. She makes the story relatable and fun to read. While there is sexual tension not much is made of actual sex. This is definitely a PG HEA. Pick this one for a light fresh take on learning what lies beneath.
Book Info:

Publication: September 6th 2016 | Harlequin Romance | The Life Swap #2
Best man for the bridesmaid!
A devastating accident left Hope McKenzie the sole carer for her little sister. So now that her sister is engaged, Hope will do all she can to organize the wedding—even if that means dealing with reluctant best man Gael O'Connor!
Famous New York artist Gael has spent his life observing his parents' affairs—he's convinced love is a sham. But in spending time with shy Hope, he coaxes her out of her shell. And soon wonders if this beautiful bridesmaid is what he's been missing all along!