Warrior Untamed by Shannon Curtis is the second book in the Shadow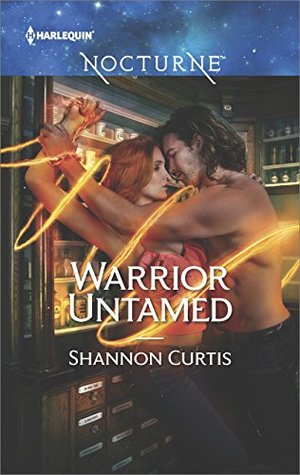 Breeds series. Witch Melissa Carter has kept shadow breed Hunter Galen captive in her basement for five months as retribution for his attempt to burn down her apothecary–with her in it. But when her friend Lance shows up on her doorstep with mortal wounds, she's left with no choice but to turn to Hunter and ask for help. As a light warrior, Hunter has the ability to heal. In return for his help, he asks to be released from his prison. When it becomes clear that Melissa has a lot of enemies coming after her, and that Hunter's father is coming after him to kill him, the pair sticks together to find a way to save themselves.
Hunter likes to call Melissa bitchy witch, but the more time he spends with her the more he realizes they have in common. Hunter's father is trying to kill him and his brother, Melissa's mother is only concerned about her position of power as the coven leader, and she's willing do to anything to keep it, even if it means sacrificing her daughter. They both understand the loss of a parent, as Hunter lost his mother and Melissa lost her father when they were young.
When Hunter takes Melissa to the underground where the Darkken live, he's in for a big surprise. His initial response is understandable, but I was a bit surprised how quickly he came to accept the situation. Melissa becomes the voice of reason and helps him accept what's going on to help heal the wounds of his past.
The one thing I didn't understand was why, after being missing for five months, did Hunter's brother not search for him, especially since he was the reason Hunter was imprisoned in the first place. Granted it's revealed that their relationship was strained, but one would think he still would have put in some type of effort to free his brother.
If you enjoy paranormal characters, Warrior Untamed has a little bit of everything: vampires, witches, wolf shifters, and light warriors. The characters are well written and the storyline is enjoyable. There's plenty of exciting action as Melissa and Hunter have to fight off vampires, werewolves, and other paranormal creatures. At times it felt like I was missing some pieces. I'm not sure if this was because I haven't read the first book in the series or not; either way, it wasn't enough to take away from my overall enjoyment of the story. If you enjoy paranormal stories, I recommend giving this one a read.
Book Info:

Publication: December 1, 2016 | Harlequin Nocturne | Shadow Breeds #2
If not for her protective wards, witch Melissa Carter would be dead at the hands of her enemy, shadow breed Hunter Galen. Now he's her prisoner. Though she tortures the powerful warrior with spells, he torments her with dark fantasies, inciting a forbidden lust too strong to deny.
Hunter must escape to complete his mission—destroy his father, who vowed revenge on him and his beautiful captor. But a warrior mates for life and now Hunter must protect Melissa—his mortal enemy and unlikely love. Doing so means descending into the underground world of the Darkken, a place so evil they might not come out alive…