Ways to Tempt the Boss by Joanne Rock: Lucas Deschamps' mother hired makeup artist Blair Westcott to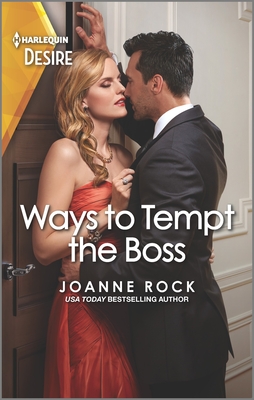 work for their business Deschamps Cosmetics, but for all intents and purposes Lucas is Blair's day to day boss. Lucas is afraid that a spy has infiltrated the company in an effort to force them to give control over to his estranged father. Could Blair be the mole?
Blair soon wins the support and care of her colleagues with her generous and kind manner. She becomes very popular when she brings in cookies and cupcakes for her co-workers. Lucas hasn't had an opportunity to enjoy her tasty treats since the other employees scarf them up rapidly. He may not have been able to enjoy any of her baked goods, but he can't help noticing how tempting she looks.
Blair puts on a happy face even though she is very anxious inside. Her mother is being treated for ovarian cancer and there is no insurance. She has been able to rent a cabin for her mother close to the cancer treatment center . Still, the ongoing chemotherapy bills are threatening to overwhelm her.
When she finally confesses what is going on in her life to Lucas, he talks her into getting away with him to a marketing conference.
With this novel being part of the Harlequin Desire line, the reader knows there will be lots of heat. Author Joanne Rock delivers that and more. It was beautiful how the sweet, unassuming Blair had a strong, passionate side right below the surface. On the other hand, it made me smile when she brought tarts for her private plane trip with Lucas, thinking there would only pre-packed sandwiches and nuts. She was certainly not used to luxury.
Lucas had his own passionate side, but was suspicious about motives after seeing his father betray his mother and try to ruin the company.
Blair's love and concern for her mother is beautiful. At the same time, her mother wanted Blair to take time for herself and not hover too much.You could tell Blair had become such a special lady thanks to a loving mother.
Blair's two roommates, Sable and Tana, play integral roles as secondary characters. They are all about encouraging and protecting her. If you love Ways to Tempt the Boss as much as I did, you will be happy to hear that Tana's story will be coming in November. To have the best experience, you will want to read all three novels in the Brooklyn Nights trilogy.
Book Info:

Publication: August 24, 2021 | Harlequin Desire | Brooklyn Nights #2
A seduction agenda blurs the line between work and play in this Brooklyn Nights novel by USA TODAY bestselling author Joanne Rock.
Seduction is the only way to save his company.
But now who's seducing who?
Could makeup artist Blair Westcott be the corporate saboteur who has infiltrated Deschamps Cosmetics? CEO Lucas Deschamps vows to get closer to her and find out—protecting his family's business at all costs. But Blair's beautiful, caring nature is at odds with Lucas's suspicions. And her kisses spark a passion the guarded businessman can't resist. As the stakes become much more personal, will he uncover Blair's betrayal…or be guilty of a betrayal of his own?
From Harlequin Desire: A luxurious world of bold encounters and sizzling chemistry.
Love triumphs in these uplifting romances, part of the Brooklyn Nights series:
Book 1: A Nine-Month Temptation
Book 2: Ways to Tempt the Boss
Book 3: The Stakes of Faking It