In The Royals Next Door by Karina Halle, Second-grade teacher Piper Evans has lived on picturesque Salt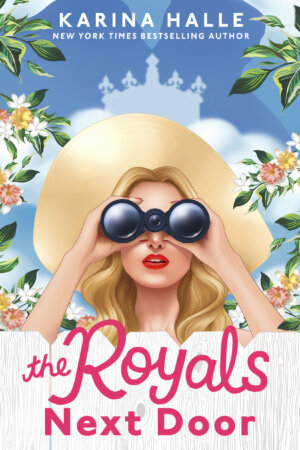 Spring Island, off the coast of British Columbia, for almost five years now. And she's seen her share of scandals. Heck, she was even part of one a few years ago, thanks to her ex-fiance. But now she's settled into her cute little cottage with her mom, who requires some TLC due to her mental illnesses. Piper is even a podcaster who dotes on all things romantic, particularly books. Although that doesn't mean she believes she'll ever get a HEA of her own. Been there, done that…has the (internal) scars to prove it.
He laughs. He actually laughs.
I gawk at him. "What's the date today?"
"It's July 6," he says. "Why?"
"Because I want to remember it as the day I made Harrison Cole laugh. I'll celebrate it every year by making offerings to the Holy Saint of PPOs, leaving tidings of aviator sunglasses and stiff upper lips."
But when the mansion next door is rented by British royals–the Duke and Duchess of Fairfax–and their handsome, standoffish Personal Protection Officer (PPO) Harrison Cole takes an attitude with Piper, the battle is on. She's not going to be bested by a stuffy know-it-all who's too hot for his own good. Nor will she let the media circus keep her from her normal life. But as Piper gets to know the royals and Harrison better, she realizes that they are a whole lot more down to earth than expected. And she would do anything to make their time on the island better–even as an unexpected situation shakes up her world. It's a good thing Piper knows how to stand up for herself and those she cares about.
He puts his hand on my face, cupping my cheek. "I don't know how to make it work… But that doesn't mean I'm not going to try. That we won't try to figure it out together."
The Royals Next Door showed off author Karina Halle's lighter side with its romantic comedy vibe–complete with a chuckle-worthy meet-cute. Set on a ruggedly beautiful island with all its quirks, and locals who were untrusting of outsiders, I had a blast reading this romance.
'For once I'm looking at him not as a bodyguard extraordinaire to the royals but as a man who has turned my ovaries into a ticking time bomb, a man who makes me want to climb him like a jungle gym.'
I must say that Karina Halle definitely flexed her literary muscles with The Royals Next Door. The last book I read by her was The Blood is Love, which was a dark and twisted paranormal romance that had almost an edge of horror to it. So what a difference it was to read a rom-com after that! But I was swept away quickly with Piper and Harrison's story–which ended up being royal-adjacent instead of a straight up royal romance as it was the duke and duchess's bodyguard Harrison who fell in love with their neighbor Piper.
I fell hard and fast for our adorable couple. There was some comical bickering back and forth between them, nothing mean-spirited thankfully, plus a whole lot of attraction right away. Piper was super protective of her mother, who suffered from a couple of mental illnesses, something that's talked about in a fair amount of detail in a positive, healthy manner–for which I have to commend Halle. It made Piper's life a bit complicated, but she didn't complain about it. And I loved Harrison's view on it all. (I won't spoil the reason why he was so supportive of Piper and her mom) He was basically a "cinnamon roll hero" who was all gruff on the outside but kind and sweet at heart. That was reflected in his care for Piper and also for his closeness with Eddie and Monica, who were phenomenal secondary characters!
I think aside from the entertaining storyline and the heartfelt connection between Piper and Harrison, what drew me in to the story was Halle's vivid description of Salt Spring Island and its inhabitants. She would definitely know, considering she lives there in real life, and that comes across clearly in each scene. (FYI: it's worth taking a moment to Google Salt Spring Island, British Columbia–talk about gorgeous!)
A novel that showed how putting yourself out there, whether it's in a romantic relationship or a friendship, can add value and warmth to your life, The Royals Next Door is perfect beach reading material.
QOTD: Are you open to reading different genres if a favorite author tries something new?
Book Info:

Publication: Expected publication: August 31st, 2021 | Berkley |
An ordinary summer goes royally awry when a prince and princess move next door, bringing their handsome bodyguard with them, from New York Times bestselling author Karina Halle.
Piper Evans: elementary school teacher by day–avid romance reader and anonymous podcaster by night. She lives a quiet, reclusive life, taking care of her mother, who struggles with mental illness, avoiding her regrettable ex, who bartends in town, and trying to make inroads in the tight-knit island community that still sees her, five years in, as an outsider.
And she's happy with how things are–really–until British royals rent the property next to hers and their brooding bodyguard decides she's a security threat. Piper quickly realizes that one person's fairy tale is an ordinary woman's nightmare as a media frenzy takes over the island and each run-in with Harrison Cole is hotter and more confusing than the last. But beneath Harrison's no-nonsense exterior lies a soft heart, one that could tempt a woman who's sworn off attachments into believing in white knights.
But when Piper finds herself smack in the middle of a royal scandal that rocks the island she'll need more than Harrison's strong arms to shield her–she'll have to do a little rescuing herself. With careers, hearts, and friendships on the line, Piper and Harrison will have to decide what they're willing to give up for a chance at their own happily ever after.