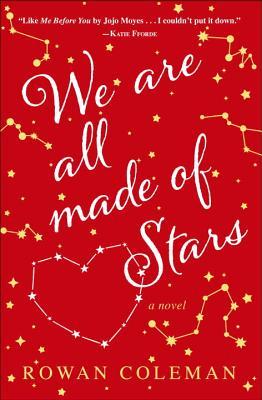 In We Are All Made of Stars by Rowan Coleman, Night nurse at a London hospice, Stella Carey sees the devastation that loss and grief cause during each of her shifts. But she doesn't have to leave home to learn about loss. Her husband Vincent might have survived the horrible attack on his Army unit in Afghanistan, but he isn't without injuries or regret. And that emotional pain is eating away at him, leaving him struggling to sleep or make sense of his new life. Stella longs to be there for Vincent but it unfortunately only seems to anger and upset him more whenever she's near, which doesn't bode well for their marriage.
"Vincent, I love you… I don't want to run away from you, I want to run to you. I always have. You are the end of my journey, my finishing line. You are home and I love you."
"Well, don't," he says. "Don't love me. I don't want you to."
Hope Kingston is ready for her respite care to be over at Marie Francis so she can go home to her books and her music. Having Cystic Fibrosis has defined her life, holding her, and in turn, her best friend Ben hostage to the fear of germs and illness. But thanks to encouragement from nurse Stella and a teenage cancer patient, Hope is looking forward to the chance of finally living her life. But just as her life is looking up, local historian Hugh finds out a secret from his childhood that changes everything. And even with the moral support of his new neighbors Sarah and Mikey, he'll have to face the abandonment issues and loss he thought he had already recovered from.
"Kindness changes everything," Grace says. "You can't worry about the rest of the world, never mind the rest of the universe. All you can do is look to your left and your right and try to be kind to whoever is there."
Grab your tissues. You'll definitely need them when you read We Are All Made of Stars. But don't worry that this is strictly a sobfest. It's not. Rowan Coleman blended in enough laughs and happy-for-now endings to make this a stellar piece of heartfelt women's fiction to remember.
'For a moment, for too brief a moment, I was the man that loved you, but now I am changed. I am the air, the moon, the stars. For we are all made of stars, my beloved.'
This truly was a stunning novel but it is rather difficult to explain. Filled with Rowan Coleman's emotionally rich writing and told from multiple POVs, we followed along as our protagonists dealt with love, loss, grief and new beginnings. The common denominator here was the hospice center. All of the characters' lives were touched in some way and were intertwined somehow with the Marie Francis facility. And Stella, being a night nurse there, was someone who was involved in each of the threads of the story in some way, which also meant she was affected by everything that happened to our group.
Even though this was not an easy book to read as it dealt with terminal illnesses, life-shattering secrets, and breakdowns in relationships, it was an important story filled with life lessons and tender, joyous moments that will make you smile through your tears. One of the most incredible parts of the book were the letters that Stella wrote on behalf of her terminal patients who wanted to reach out to a loved one when they were gone. These missives were tucked in between each chapter we read. Some of them were a bit overwhelming, filled with regret and sorrow for things said in anger or things the patients didn't get a chance to do or say. Other letters were sweet and funny. Then there were some that were confessional, detailing what couldn't be said or admitted to when they were alive. No matter which of the letters I read, it seemed there was something to learn and take away from the sincere words.
We Are All Made of Stars was a rather profound, poignant novel that was touching and genuine. Raw emotions and complex characters dominated, leaving this reader feeling hopeful for Stella, Vincent, Hope, and Hugh's futures and their chance at love and happiness.
Book Info:

 Expected publication: July 26th 2016 | by Ballantine Books |
What if you had just one chance, one letter you could leave behind for the person you love?
What would you write?
Stella Carey has good reason to only work nights at the hospice where she is a nurse. Married to a war veteran who has returned from Afghanistan brutally injured, Stella leaves the house each night as her husband Vincent, locks himself away, unable to sleep due to Post Traumatic Stress Disorder.
During her nights at the hospice, Stella writes letters for her patients containing their final wishes, thoughts and feelings – from how to use a washing machine, to advice on how to be a good parent – and usually she delivers each letter to the recipient after he or she has died.
That is until Stella writes one letter that she feels compelled to deliver in time to give her patient one final chance of redemption…