We Own Tonight by Corinne Michaels is an amazing story that will make you laugh,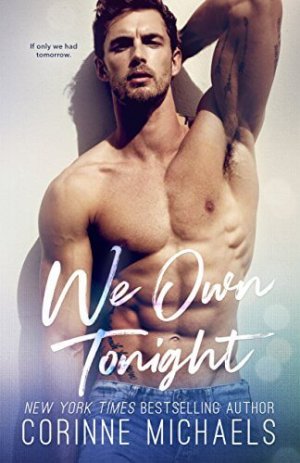 make you smile, and there are even parts that will make you cry. Plenty of feelings in this one! This story gives one lucky woman a chance at her childhood celebrity crush. Going into the story, I thought it was going to be pretty straightforward…oh how wrong I was!
Eli Walsh is a member of a boy band. An adult member, who is still touring after years. Heather Covey is an officer of the law and a huge fan of Eli's. Heck, she even had an Eli pillow case growing up. Heather and her friends hit up Eli's concert with the intention of having fun and letting go for one night. Heather ends up getting very lucky. She gets to relive her childhood fantasies and turn them into a reality. But she definitely deserves it. Her life hasn't been an easy one. Her parents died early on, leaving Heather having to raise her sister. A sister, who suffers from Huntington's Disease and then her marriage fails because she's taking care of said sister. If anyone deserves a night of fun, it's Heather!
While on stage singing, Eli, notices Heather in the crowd. She's cute and he chooses her to come up on stage, where he can serenade her. From there, he decides he needs to see more of her and invites her back stage. Only for her to run away after having amazing sex. Eli is used to things falling into his lap and Heather running away from him, has him twisted up in knots. He's in town for a few weeks, and he plans to track her down.
Heather keeps trying to dodge Eli. There's been too many people in her life who has left her and she can't add another one. But Eli isn't listening. He knows he needs to stay away from her, but he needs to be with her.
"I wasn't living before you. I was waiting."
Eli and Heather are everything! I loved them together. Their journey together is fun, sweet, and a bit emotional. This author pulls all the right punches and makes you invested in her characters. Highly recommended!
Book Info:

Publication: September 5th 2017 | BAAE Publishing |
From New York Times Bestseller, Corinne Michaels, comes a sexy new STANDALONE romance novel.
I'm not a one-night stand kind of woman. I'm especially not the woman who has a few drinks at a concert and ends up in bed with my childhood celebrity crush, Eli Walsh.
However, that's exactly where I find myself.
What's a girl to do after a drunken mistake? Run. I grab my clothes and get away from the powerful, irresistible, and best-sex-of-my-life superstar as fast as I can. His gorgeous green eyes, rock-hard body, and cocky smile have no place in my world. My life is complicated enough.
Someone forgot to tell him that.
Eli is relentless. Pushing his way into my heart, wearing me down, proving he's nothing like I assumed, and everything I need. But when my world shatters to pieces, he holds the broken bits together. Unwillingly, I fall desperately in love with him.
He made me think we'd have forever . . . I should've listened when he said we could only own tonight.