Sacrifice of the Pawn by Lydia Michaels: Isadora is a simple woman who is born into a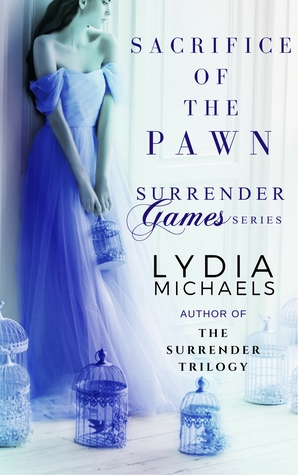 family of wealth, power, and privilege. She simply desires for a love to call her own but is forced into putting her life on hold to raise her younger siblings and play the role of dutiful, devoted mother. She's forced to grow up very quickly and she handles her life with grace.
When her brother Lucian goes to college, Isadora is left feeling the loss and wondering what she can make of her life with only one more sibling to raise. Between the overwhelming and commanding presence of her male family members and her father's neglect, she doesn't know her own worth or how to step outside her comfort zone…until Sawyer. Despite the age difference, she pursues an affair with her father's protégé. They have amazing chemistry but keeping such a secret weighs on them both.
"Isadora…"
"Don't ruin it, Sawyer."
He swallowed back whatever warning he was about to give. "You're sassier than you were the last time I saw you."
"Because I'm not that girl anymore."
Isadora is relatable in that she often puts herself last in terms of what she wants and needs in life. Over the years, Isadora has to learn to pick herself back up from setbacks and heartbreak. She shows a determination for more control over her own life and a desire for more than just being a stand-in for a cruel and absent father. The ups and downs of a secret affair with the much older Sawyer takes a toll despite their chemistry and the comfort and safety he represents.
"Unless you're asking for a belated cake, I don't see why that's relevant. Your age never bothered me."
"Well, I was young when we started," he joked.
"It was seven years ago, Sawyer. Knock it off."
Sacrifice of the Pawn is intriguing as some pieces of the puzzle fall into place while other dominoes have yet to fall. Lydia Michaels created a compelling character in Isadora as she grew and challenged herself. Ms. Michaels provided lots of twists and turns as this chess game continues to unfold and will continue in the next book.
I would recommend reading the Surrender series first, otherwise parts of the storyline will be confusing since this book spans 10+ years. Fans of Beth Kery and Megan Hart will enjoy Sacrifice of the Pawn.

Book Info:

Publication: Published September 26th 2017 | Lydia Michaels Books, LLC | Surrender Games #1
SACRIFICE OF THE PAWN (Surrender Games 1)
Surrender Games follows the emotionally charged and highly erotic contemporary romance saga, The Surrender Trilogy.
Isadora Patras has sacrificed years raising her younger siblings, Lucian and Antoinette. As her brother and sister grow more independent, she feels her purpose is lost. Aching to do something selfish and hungry for a taste of the forbidden, she takes a lover—her father's protégé and trusted family friend, Sawyer Bishop.
In a secret affair trust is tested, respect is bartered, and reputations are on the line. Sawyer has always been Isadora's mentor, but now it's her move. She's through being a pawn and ready to demand the respect of a Queen.
The Surrender Games Series should be read after The Surrender Trilogy.