Wedding at the Graff by Jeannie Watt: Sometimes timing doesn't seem to turn out right no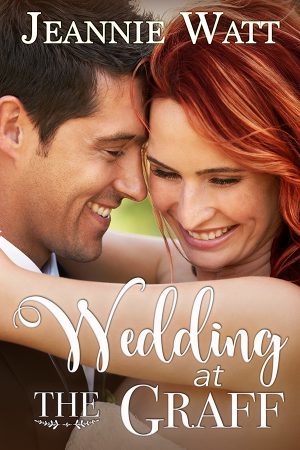 matter what happens, the first time, the second but maybe a third?
Michael Donovan wasn't sure he wanted to step into a situation with his former friend again. It was too hard to let her go the first time. Would he really be able to do it again? This time would be harder to come back and then leave again he knew that, but he had to. He had to see her one more time and help her whether she wanted it or not.
Colleen Flanigan knew the day would come. She just wasn't sure why that day had to bring her former friend. She knew she shouldn't blame him and yet he was a bit part of the whole thing and she just couldn't make that part of the memory fade.
Can Michael and Colleen ever put the past behind them? When a break in is involved, jobs are on the line and livelihoods in question what will rise above?
Marietta is a wonderful place and Ms. Watt has given a glorious tribute to the town with this novel. Her characters are well written. The plot is subtle and with enough of a twist to make things interesting while not overwhelming the sweet rebirth of a romance happening. This is a lovely, sweet, romance full of love, a bit o' the Irish and most importantly full of the HEA.

Book Info:

Publication: Published March 1st 2018 | Tule Publishing | Holiday at the Graff #5
Luck of the Irish?
If only!
Collie Flanigan fled Chicago for Marietta, Montana to start a new life after breaking her engagement, but immediately hits a snag. Her ex-fiancé wants the ring back and sends his most trusted confidant and employee to get it. But the ring was stolen from her family years ago, and Collie has no intention of ever parting with the beloved family heirloom.
Collie's college friend, Michael Donovan, thinks his mission is simple—quietly retrieve the ring to keep Collie out of jail and himself employed. He books a stay at the historic Graff Hotel, where Collie works in housekeeping, intending to quickly persuade her to part with the ring. Not so easy when Michael realizes he's in too deep. he chemistry between him and Collie is still there, stronger than ever, but their timing's always been off. Is now finally their time, and will Collie accept his ultimate sacrifice?