Rancher's Dream (The Montana Cahills #6) by B.J. Daniels: Mountain Crest, or as the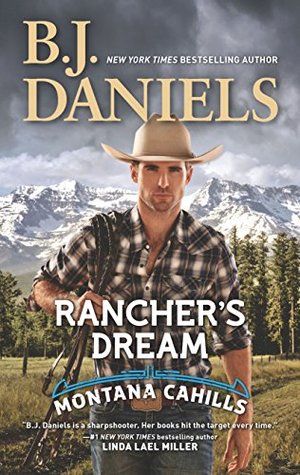 citizens of Gilt Edge, Montana call it, Baxter's Folly, is to be her new home. Deidre "Drey" Hunter's new husband "surprises" her with this announcement at their wedding reception.
Drey was looking forward to living in her new husband's penthouse apartment in New York City. Ethan's decision was quite a disappointment. What was worse – her husband disappears on her wedding night. And this house seems to be sinister and even cursed. Is someone watching Drey?
Is someone trying to make her feel unhinged? Where is Drey's husband? Drey is scared, so scared she calls her ex-boyfriend Hawk Cahill for help. Can Hawk help her? What is going on?
B.J. Daniels has another page-turner in Rancher's Dream, the latest release in her Montana Cahills series. The intrigue and suspense rushed off the pages thrilling this reader and I suspect will keep her readers awake well past their bedtime finishing this book so they can find out how this mystery ends. The characters are all so believable as Ms. Daniels' characters usually are. She places the readers in Drey's shoes as she is frightened half out of her mind.
I invite readers to enter B.J. Daniels Montana Cahills world and hold on tight for a fast and furious ride.

Book Info:

Publication: August 1st 2018 | HQN Books | The Montana Cahills #6
A bride becomes a target in New York Times bestselling author B.J. Daniels's latest can't-miss suspense
Tragedy sent Deidre "Drey" Hunter running from rancher Hawk Cahill and into the arms of a sleek businessman who promised her a new life. But dreams of Manhattan days and cosmopolitan nights shatter when he brings her back to an ultramodern paradise in her hometown of Gilt Edge—and vanishes on their wedding night.
Taunted by seclusion and silence, Drey starts to doubt everything…including her sanity. Only Hawk, the stubborn cowboy from her school days, believes the threats are real and that someone is ready to kill. But is he willing to forgive the past if it means ending her nightmare?