Welcome Me To Willoughby Close by Kate Hewitt: Emily David was quite content with her fairly anonymous life in London. She had a good job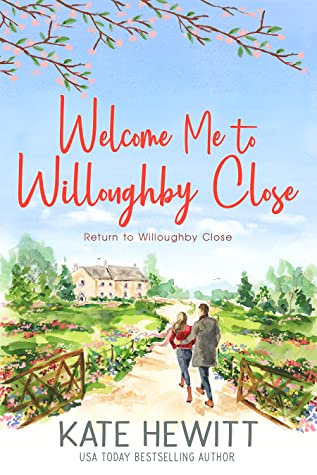 and her routines and nobody pried into her personal life or past. Her quiet life is suddenly disrupted when her boss, Henry Trent, asks her to move a small town in the Cotswolds to help him run a new charitable foundation.
Emily lives in a cozy cottage on the large estate Henry Trent owns. As a way to get her to know the people in the village and and help with a fundraising fair, Henry sends Emily out to do face to face invitations to shop owners to participate by setting up booths at the fair. Of course, this is way out of Emily's comfort zone. It also makes things worse when the first business she visits is a no frill pub owned by Owen Jones. Owen comes off as more than a little prickly. Fortunately, most other shops and businesses are much more friendly.
Emily gets overwhelmed when so many of the ladies of the village seek to include her in local activities and want to matchmake. Although her new home and surrounding area are lovely, Emily is feeling uncomfortable..
Once Emily gets to know Owen better, she realizes he is a little rough around the edges, but she is still not sure he is the "lovely man" that the other women admire.
Even though I have never been to the Cotswold, I am quite fond of the area. I have learned fair amount about it from pictures, videos and descriptions in the Agatha Raisin series by M.C. Raisin. This area is on my bucket list. Author Kate Hewitt choosing the location gives the stark difference between the bustle of London and the quiet of a small village.
Emily certainly has a form of OCD and social anxiety. The author does a masterful job of showing how Emily's personality was formed by nature and nature. I wanted to root for Emily from the start.
Owen comes off as trying to be a knight in shining armor and hides his inner conflicts at the same time. I always love heroes who are shown with authentic truth.
All the people in the village, including Henry's wife are supportive of Emily and show her she is not alone. It is difficult these days to find friendly neighbors in the hustle and bustle and Willoughby Close can make one long for a simpler life.
If you want a sweet romance, a beautiful location and a tale of lovely women, then you will feel welcome in WELCOME ME TO WILLOUGHBY CLOSE.
Book Info:

Publication: August 18, 2020 | Tule Publishing | Return To Willoughby Close #2
Welcome back to Willoughby Close, with four new residents and happy endings to deliver…
Emily David didn't want to move to Willoughby Close. She was perfectly content in London, but when her boss, Henry Trent, asks her to relocate, she's left with little choice. Emily prefers living on her own and finds comfort in her routines. But the well-meaning residents of Wychwood-on-Lea are determined to include her in their friendly circle—a prospect Emily finds utterly alarming.
When sparks fly with local pub owner Owen Jones, Emily's safe and fragile world threatens to shatter. She has too many secrets to keep, and Owen's gentle understanding could be her undoing. But as Owen persists, Emily's heart softens, and she begins to discover the wonder of trusting friends—and falling in love. That is, until she discovers Owen has a secret of his own…
Can Willoughby Close work its charm and magic once more? And can someone who has been determined to stay lonely find—and trust—love right on her doorstep?
Discover the heartwarming magic of Willoughby Close once more… with three new stories of hope and happily-ever-afters to look forward to