Well Met by Jen DeLuca is a delightful 'enemies to lovers' romance with a unique premise – a summer spent cosplaying at a Renaissance Faire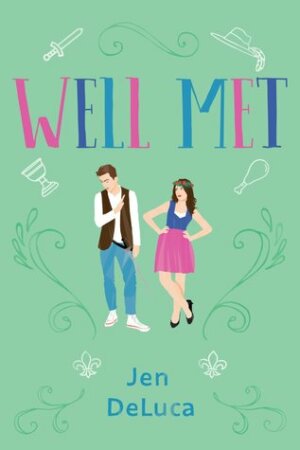 where the two main characters discover their antagonism towards each other melts away when they have to play a courting couple.
When Emily relocates to Willow Creek, the small town where her sister April and her niece Caitlin live to help her sister after she's injured in a car accident, it's a chance to clear her head and make some decisions about the future. She's just gone through a bad breakup and had to move out of her home so a summer spent with her family taking a day at a time is just the ticket to get her bearings. Caitlin has signed up for the local Renaissance Faire, a popular summer fundraising event held over six weeks and needs an adult to join with her. Since April is out of commission that leaves Emily as a 'volunteer'. She doesn't know the first thing about faires but she is a Shakespeare fan and she's worked in a bar so playing a tavern wench in an Elizabethan time period can't be too hard.
But clearly some people take this fair thing much too seriously – case in point, the main organizer Simon with whom she gets off on the wrong foot from the very start. Simon is a teacher at the local high school but he's also very strict that things at the faire go a certain way and Emily's casual attitude and questions put them at odds. Still, the show must go on. Once the faire starts, Emily, now 'Emma' has her hands full with drinks, bar patrons, and all of a sudden a fake relationship with Simon as his flirtatiously handsome faire alter ego whom to her dismay she finds rather attractive. Pretending to be a courting couple means time spent together and discovering that maybe their 'dislike' of each other isn't so strong after all. A whirlwind romance will certainly help Emily get over her broken heart, but what will happen when the faire, and summer, are over?
If you've ever wondered what it's like behind the scenes of a Renaissance Faire, this is the perfect read for you! The author has first hand knowledge of the setting and has translated that into a very readable and enjoyable experience from the stage hands crafting the sets to the costuming to the lessons in Elizabethan language and mannerisms. With the setting down pat, the author has also created believable and thoroughly enjoyable characters who are dealing with life's ever present ups and downs.
Simon's older brother Sean who died of cancer a few years earlier was the original fair organizer and it's in his memory that Simon keeps it going. But it's become more of an obligation than a joy for him and Emily's presence as a newcomer, with her questions and suggestions are not welcome. Once Emily finds out why Simon is so uptight about keeping things exactly as they've always been, she can empathize. It doesn't stop her from wanting to help make the faire a success for all of them and if it means getting Simon to admit that he can't keep things going the same way indefinitely, so be it.
Under the freedom of their faire guises, Emily and Simon discover a mutual attraction and there are some absolutely swoonworthy and sexy scenes as the couple find that the here and now has some definite advantages. I love a good enemies to lovers romance and the author does a fabulous job with the evolution of their relationship as the summer turns to fall. Simon isn't the only one with issues however. Emily had only planned to stay with her sister as long as she was needed but she's planted roots in the community and is contemplating staying. She's gotten a summer job with a local bookstore coffee shop owner, a perfect spot to spend her non-faire hours, and going back to school to finish her English degree is tempting. She's enjoyed getting to know her sister and her niece better. But even though the fake relationship she has with Simon feels decidedly real when they are in their faire garb she's not sure it will translate into anything more when the faire is over.
There are a couple of 'big miscommunications', the kind that would have easily been solved with a few conversations that form the basis of the conflicts that push Simon and Emily apart before the grand gesture and grovelling that leads to their happy ending. Fortunately it didn't take up too much of the plot so while it isn't my favorite conflict device, it didn't detract from the overall story for me. With plenty of laugh out loud moments, some marvelously crafted love scenes, relatively low angst and immersive worldbuilding, Well Met is truly delightful. Congrats to the author on a fabulous debut – she's definitely found a spot on my to-read list!
Book Info:

Publication: Sep 03, 2019 | Berkley |
All's faire in love and war for two sworn enemies who indulge in a harmless flirtation in a laugh-out-loud rom-com from debut author, Jen DeLuca.
Emily knew there would be strings attached when she relocated to the small town of Willow Creek, Maryland, for the summer to help her sister recover from an accident, but who could anticipate getting roped into volunteering for the local Renaissance Faire alongside her teenaged niece? Or that the irritating and inscrutable schoolteacher in charge of the volunteers would be so annoying that she finds it impossible to stop thinking about him?
The faire is Simon's family legacy and from the start he makes clear he doesn't have time for Emily's lighthearted approach to life, her oddball Shakespeare conspiracy theories, or her endless suggestions for new acts to shake things up. Yet on the faire grounds he becomes a different person, flirting freely with Emily when she's in her revealing wench's costume. But is this attraction real, or just part of the characters they're portraying?
This summer was only ever supposed to be a pit stop on the way to somewhere else for Emily, but soon she can't seem to shake the fantasy of establishing something more with Simon, or a permanent home of her own in Willow Creek.